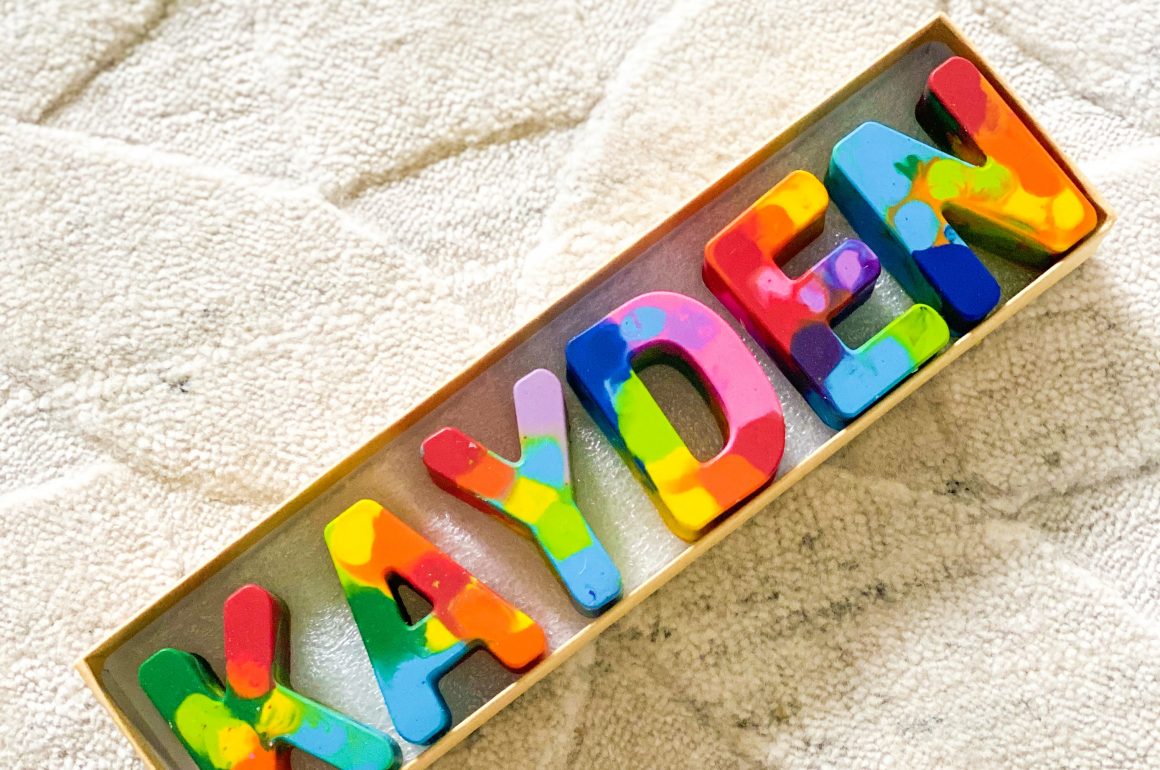 My second son, Kayden Kruze Loong, turned 1 on the 18th of October. I love throwing parties and producing events, but when you already have your hands full with two kids, work (and the myriad of things that come with that) while keeping your sanity as a couple and ensuring you set time aside for yourself, planning a party can seem very daunting. That is…unless you have a great team of vendors to work with.
I couldn't quite figure out where I wanted it. Those who know me know I usually like to do things differently. I like being unique and creative whenever I can. Since I was tight on time to plan, both because of a busy schedule and also because my son and I share our birthdays in the same month, I had to find a venue that was already a feature in and of itself. I had been to Travel Town before at Griffith Park simply as a guest to take both my sons on the train ride, but a friend reminded me that they have cute real trains there you can hold a party on! They normally book up months in advance, but they happened to have a perfect 3 hour slot (includes set up time) the weekend after his actual birthday. I decided to jump on the opportunity!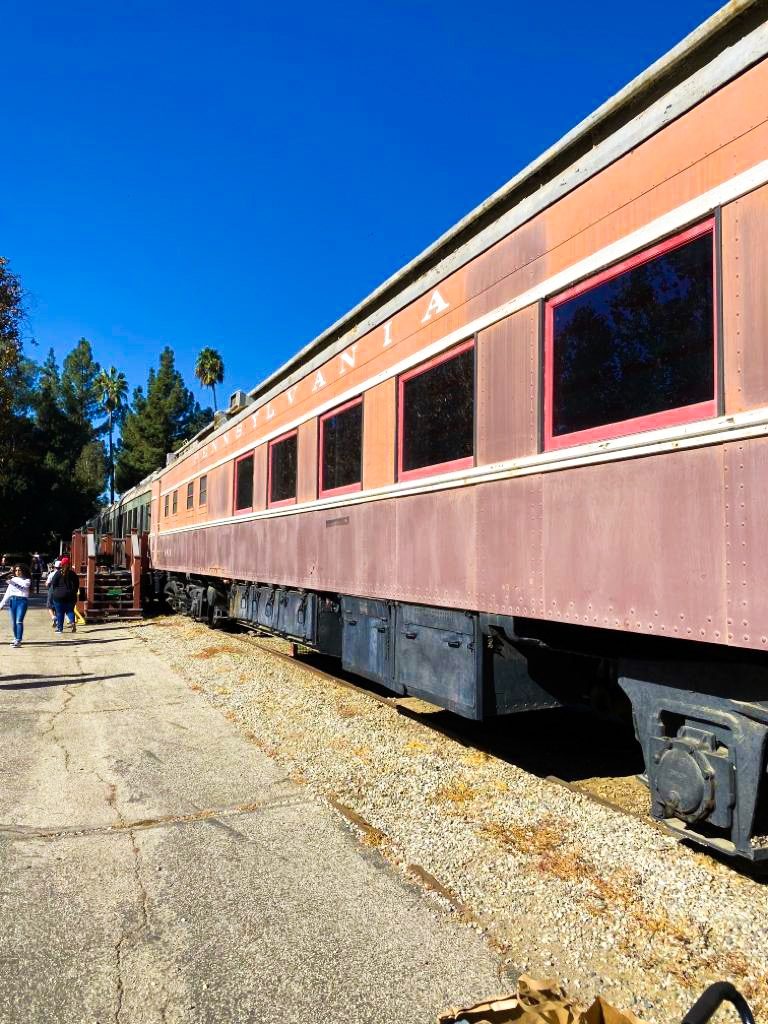 The theme of the party was a no brainer. Of course if I was going to hold it on an actual real train, it had to be train themed. I decided on the cake first. I wanted something classy, but fun. I decided on the below design. Train topper was beautiful created by Anek @aaanek. This then set my color palette for the party, navy blue, white, red and gold!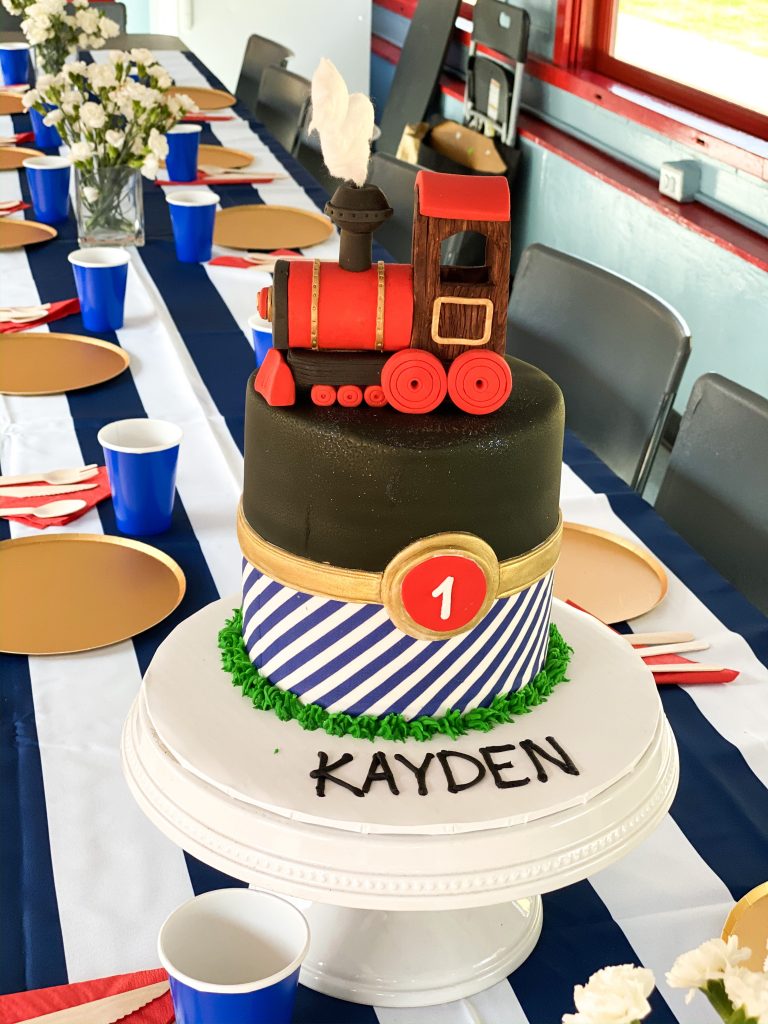 I then turned my attention to the tablescaping. I bought nautical navy blue and white striped tablecloths to place over the tables the venue provided, and right in the middle I placed the cake. Surrounding it, I put clear vases with white florals inside. Plates were gold paper plates with navy blue cups and wood cutlery. Custom train napkins enhanced the set-up and were provided by @thenapkinboss.
A room can easily be enhanced with beautiful balloon work. I worked with @balloonavenuela and they created for me a stunning balloon garland to run the top of the train and two great bunches to place outside for guests to know where we were located! With just a simple brief they got down what I wanted. I can't wait to work with them again.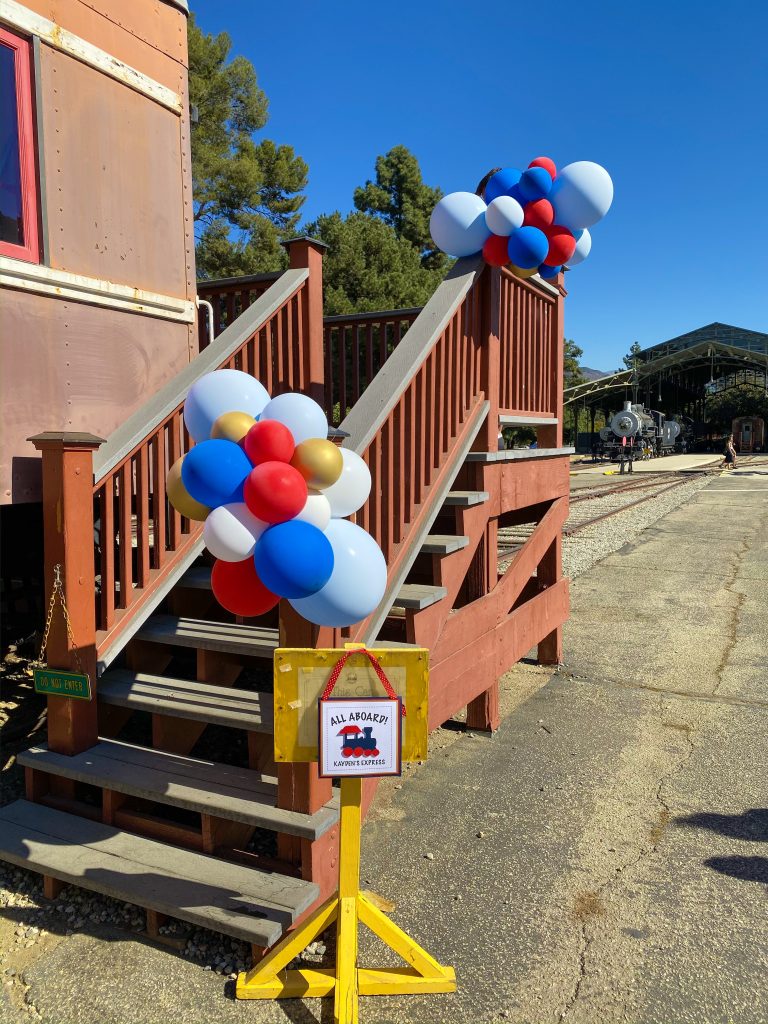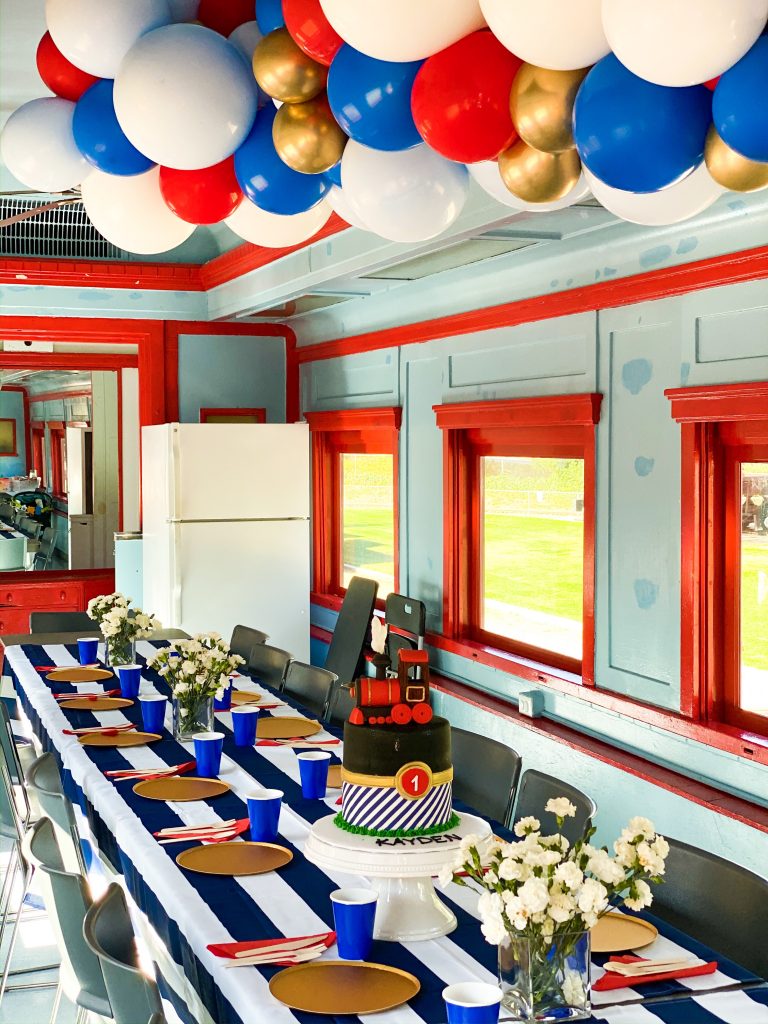 The train favor, candy and popcorn boxes were custom designed by @bigdotofhappiness. Personalized tags and train sign by @dianespaperparty. I was able to get some great custom train crayons by @namecrayons to include as one of the party favors in the boxes for the kids. They sent along a great gift for Kayden as well, with his name gorgeously created as crayons!
Last, but definitely not least, was the entertainment that I fell in love with. I had to have a kid's entertainer there, Mystery Mike, @mysteriesbymike. He did everything! Made balloon animals for the kids, a scavenger hunt, bubbles outside, magic and even a potato sack race! The kids loved him. Heck – I loved him too!! Side note – he even does Murder Mystery parties for adults!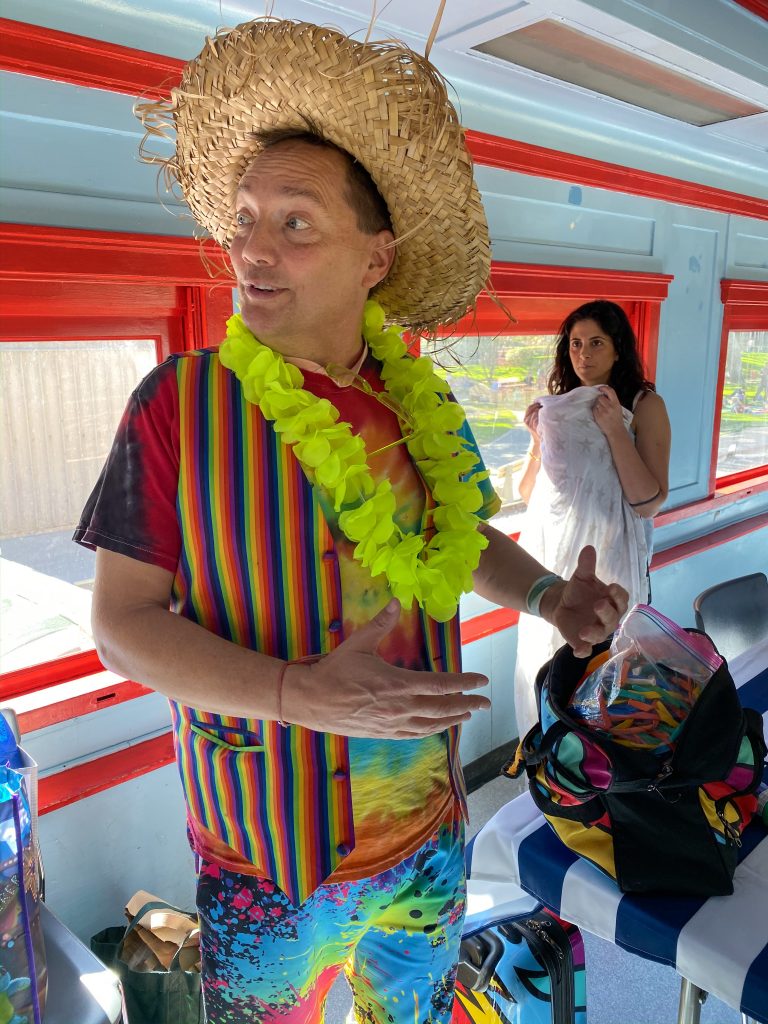 Since a lot of our friends don't have kids, although many are starting to, I knew I wanted something unique there for the adults as well. I decided to hire a caricature artist, Jon @socaltoons. Every guest got to walk away with a personal or family caricature portrait! It was amazing to see what everyone's looked like.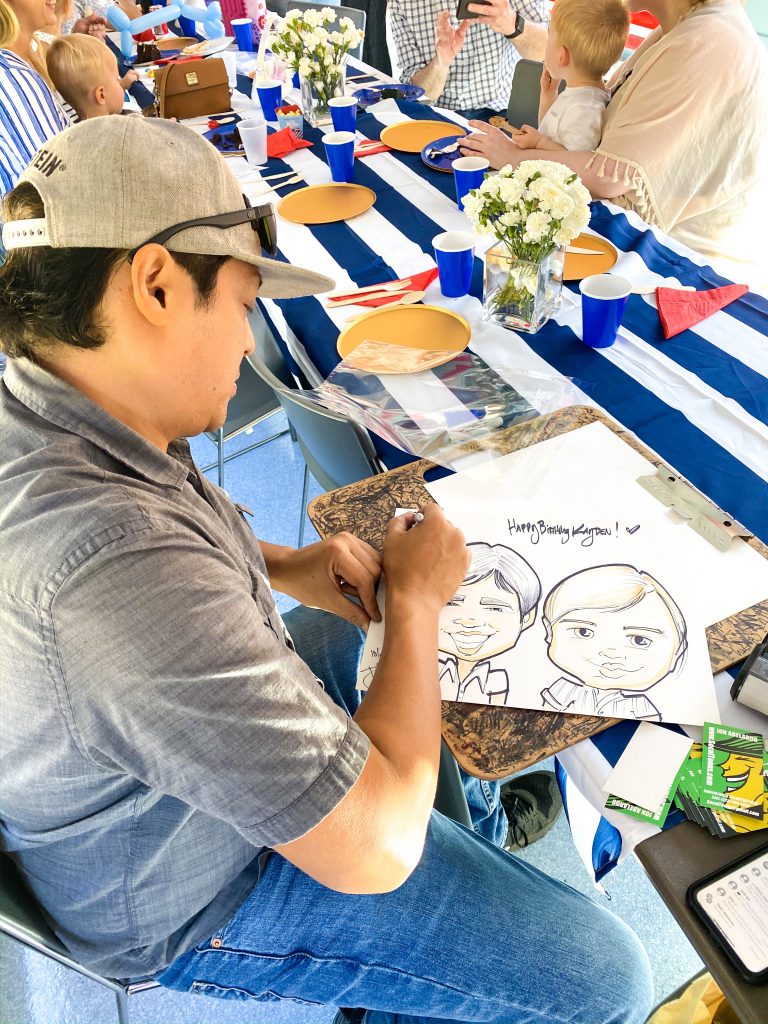 All in all we thank our vendors for making it such a lovely first birthday for my little squirt. THANK YOU!!!