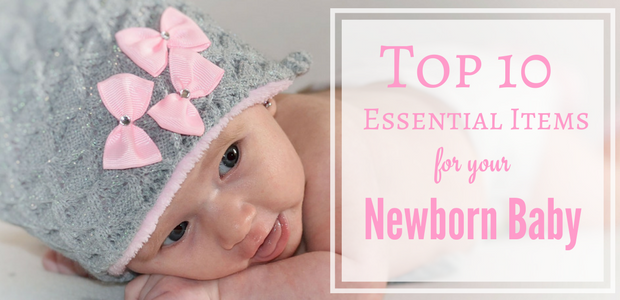 Finding quality and practical products for an expecting or new mom's baby can be difficult with all the options out there. There are obvious essentials that we must all get, but with the wide selection, how do we know what is best?
As some of my avid followers and readers know, I am close to giving birth any day now. I also am a big researcher and do my best to find some of the latest, newest technologically advanced products that are not only made of quality but practical and efficient. There are 9 products that not only do I now own, but I highly suggest that new or expecting moms take a close look at:
1.Doona Stroller/Carseat: We own  one stroller, that is not car seat convertible, and then this Doona Stroller/Carseat that I am highlighting in this article, as it has the convenience to act as both (making life much easier for mommy). The reason I am drawing specific attention to the Doona is because it is perfect for my husband and my lifestyle. We are avid travelers and always on the go. The Doona is a completely original and unique car seat with integrated wheels that flip down to convert into a stroller. A complete travel system fully connected in one!
Basically, the wheels fold away underneath the car seat when in the car and they easily just flip out when you are ready to leave your car. The handle can be used to carry the infant as a carrier, but you can also extend it when on the floor and use it as a ground rocker for your little one. It's worth the mention that the Doona has passed safety tests as BOTH a car seat and a stroller.
Additionally, the Doona is approved for flying! It is narrow enough to push down the aisle of an airplane, and if you have paid for an extra seat for your baby, you can easily place the infant seat down. The stroller/car seat combo is incredibly convenient for that busy or traveling couple that wants an all in one system.
2. Baby Bjorn Baby Carrier One: You'll find that in this article I am kind of obsessed with Baby Bjorn products. Not only do I find their quality fantastic, but they are incredibly dependable. For example, I love this Baby Bjorn Carrier. It's ergonomic and allows you to adjust the leg position for your baby. Some carriers are super uncomfortable for your child, as we all have infants that are different sizes, so to think one carrier fits all is absurd. They also have three different carrying positions: facing-in, front-facing and on the back.
This carrier is good from infancy until the age of three. There is a built in infant insert so that you can easily carry your baby as soon as he/she comes, and is easily adjustable as your baby grows. They also have a myriad of different colors and designs to choose from.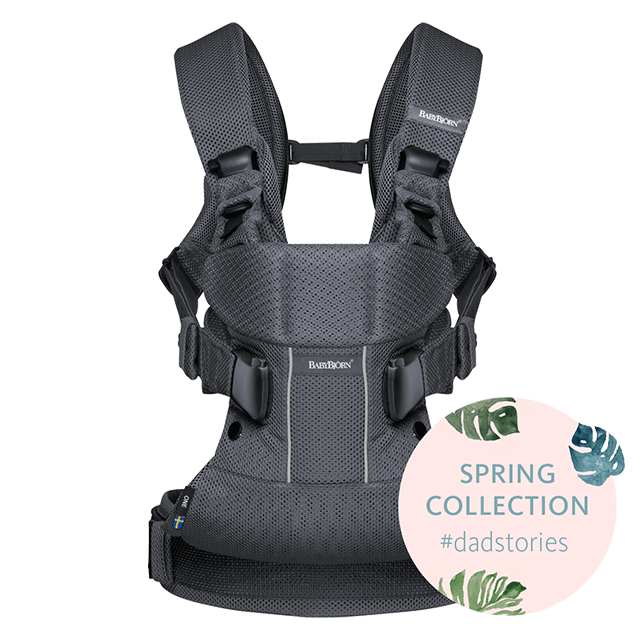 3. Baby Bjorn Bouncer: There are many bouncers out there one can choose from. Electric with gadgets to the simple kind like this one that Baby Bjorn offers. We do own an electric one with all the gadgets, however, have heard that there is something about the more simple bouncer, where the mother or father has to manually move with their own hand, that babies tend to like better and that works wonders. Perhaps the natural rhythm from the parents is more soothing than the mechanical option.
We gravitated towards this bouncer because, as with all Baby Bjorn products, it has ergonomic support for a newborn, it can rock gently with the baby's own movements, is known to help develop motor skills and balance, and is practical in that you can easily fold it up and take it with you anywhere! I can imagine using it for my baby while I take a shower, cook something or need to keep my hands free for any other task.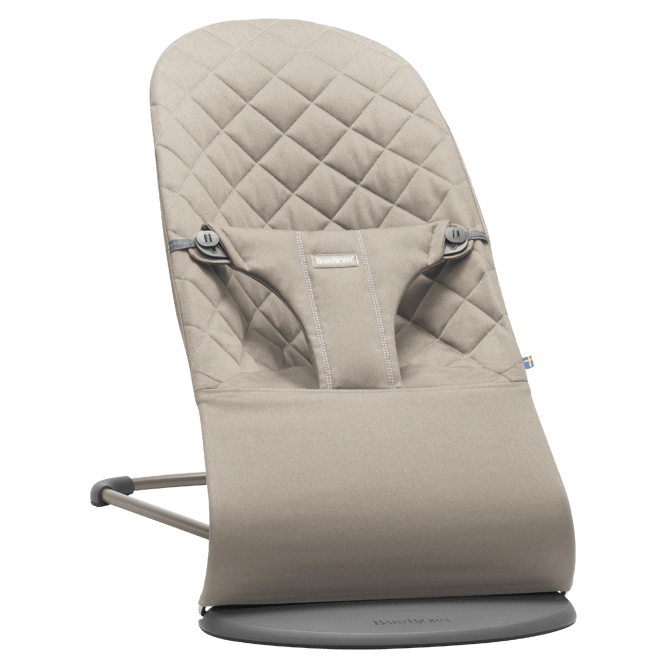 4. Baby Bjorn Travel Crib Light: Being a family that travels and is always on the go, we knew that we would need a travel crib that we could take with us when in hotels, visiting our friends for dinners or really going anywhere for a longer period of time. This travel crib is super easy to set up and fold down, which was very important for us. It is not only incredibly portable for trips, but it is also light so we don't have to lug around something heavy every single time, which was vitally important. This travel crib is great from age of newborn until about 3 years old.
Baby Bjoern is actually having an Amazon special that ends on June 4th for this Travel Crib in SILVER only. Enter code 15OFFCRIB at checkout for 15% off.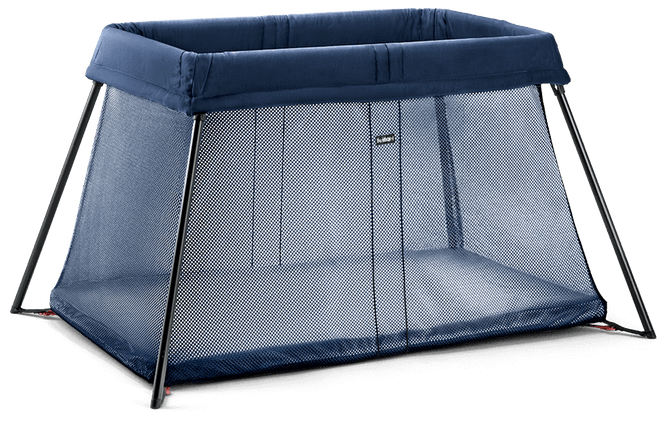 5. Hatch Baby Grow Changing Pad and Scale: The first time I saw this product it was on Shark Tank and I thought it was the coolest thing! If you are looking for a changing pad that doesn't take up a lot of space, but that you could set on a dresser and is minimalistic, this is it! We did not have a ton of space to work with to have one of those dresser/changing pad stations, and wanted to keep our space sleek and not overly packed. Not to mention the technology that is associated with this changing pad that makes it so ultra unique!
Grow is a Smart Changing Pad. It's not only your traditional diaper changing pad, but it has a built-in wireless smart scale that allows you to track your baby's health metrics. You can gauge if your baby is gaining enough weight, track how much he/she is drinking at every feeding, etc. with an app that connects to the product. It's also made of wipeable foam that is comfy for baby and easy to clean. This product is so new that is starts shipping this June 2017!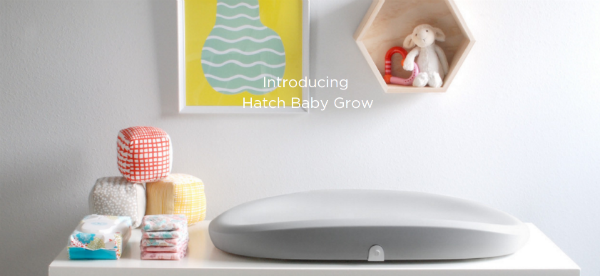 6. Medela Freestyle Breast Pump: Breastfeeding has been proven by unsurmountable amount of research to be the best thing you can do for your child, not only from a milk perspective but from a bonding and physical perspective. The breast pump is something that will eventually come in handy, and having a good dependable one that makes things convenient and easy is important. Breastfeeding can be very difficult, and sometimes painful, for women, so anything you can invest in to make it easier is well worth it. 
The Freestyle Breast pump from Medela is a double electric breast pump with 2-Phase Technology. It has a rechargeable battery and lightweight motor, which allows for mobile pumping if you are an on the go parent! You can also personalize your pump sessions using the backlit digital display, timer and memory button. It is truly an all in one system.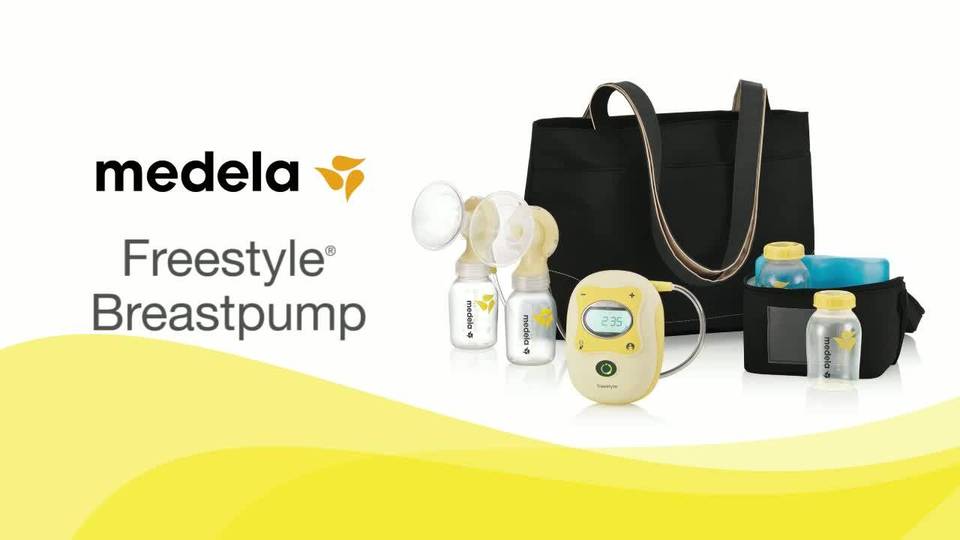 7. Diaper Dude: Diaper bags are essential when you have a baby. There will be many things to carry around with you at all times, and these bags are made specifically to have enough space and compartments that are ideal for baby products. There are many types to choose from and styles. In fact, we have several, but there is a reason why I am highlighting Diaper Dude in this article. 
Most of the time, the mother to be is buying the diaper bag and it tends to be very feminine and girly. I immediately thought about my husband and the fact that he will likely not want to carry around a girly bag when out, and of course, that would be to my detriment as I would want him to help with the carrying of items as well. I figured the most thoughtful thing to do was find a diaper bag that was unisex and he would not be embarrassed to carry around.
Diaper Dude bags come in many different functional styles and colors. They are bags that were made specifically for dads in mind, however they work for mothers as well! Each bag also comes conveniently with a padded changing pad that's easy to use wherever you go.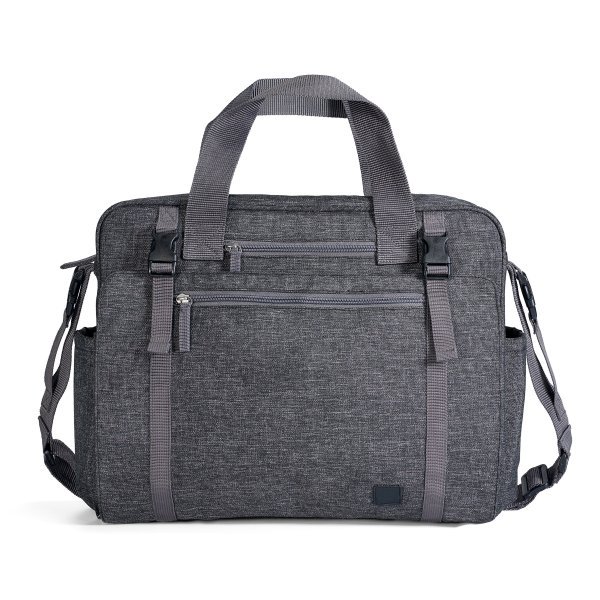 Parents are always covering their baby's stroller/car seat with a blanket or some form of fabric to protect their little ones from the sun, wind or cold weather. With the Milk Snob Cover, it is specifically designed to stretch and fit your car seat, but can also universally be used as a nursing cover or shopping cart cover. The flexibility of use makes this such an awesome product. They are incredibly soft, lightweight and breathable.
Additionally, what I know will be incredibly useful, is that it can be used as a nursing cover so that when you are out and about you can breastfeed your baby at any location and any time!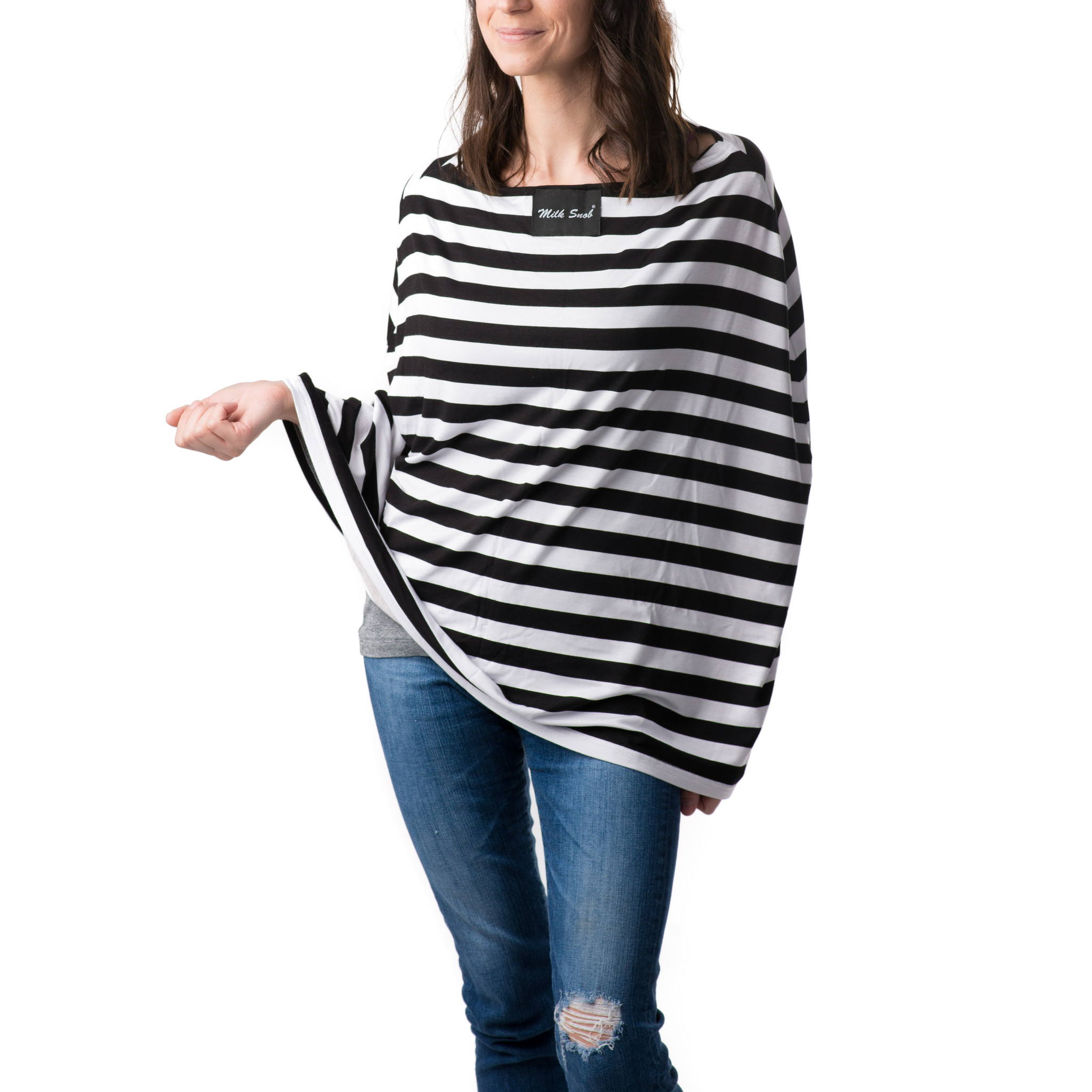 9. Milk Snob Swaddle: Milk Snob also creates swaddles in different colors and designs. Their swaddles are SUPER soft, which is why I love them. I had to look up what they were made of because I loved the softness, and it turns out it's 100% rayon from bamboo muslin fabric and pre-washed, which is why it's super soft right from the beginning. Apparently it gets softer with each wash. It also has universal use as a swaddle, blanket, playtime rug, etc.
10. Sakura Bloom Baby Sling: Baby slings are known to calm children and provide them a safe and nurturing environment. They hep with your child's emotional, physical and social development and make it more convenient for you to be hands free and get your work done. 
Sakura Bloom slings are made of fine, all-natural fibers while providing a minimalist but stylish design. The sling allows flexibility in various positions for your baby to get comfortable.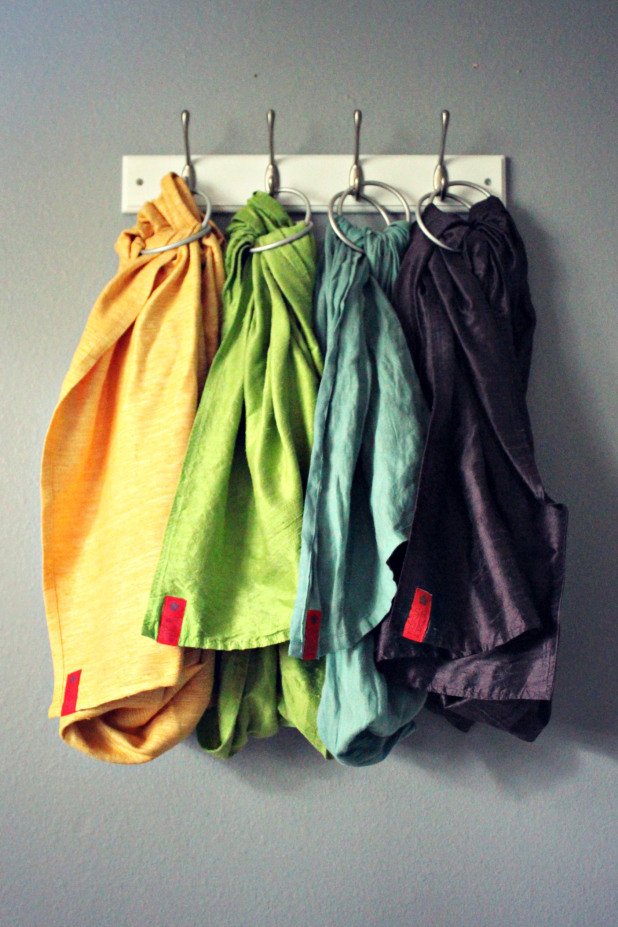 These 10 items are my MUST have essentials for expecting or new moms. Of course there are many other necessities, but I hope this starts your checklist off as you go down this amazing path of parenthood!