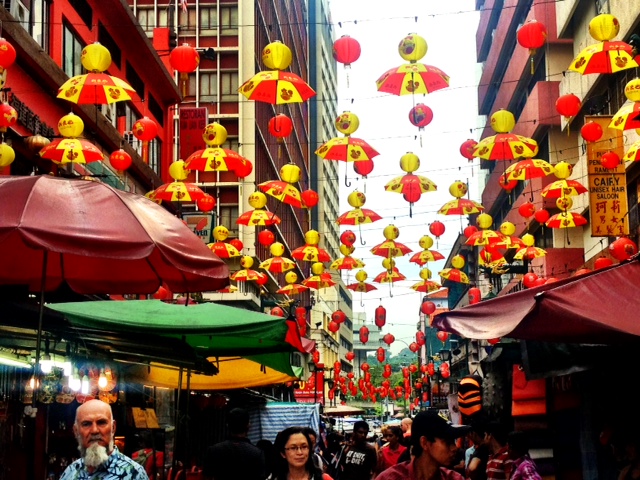 Hi Friends, Family and World Travelers,
I am now back in LA writing about the last leg of my trip – Malaysia!  I'm not sure about others, but Malaysia was never a place that immediately came to my mind when I thought about places I want to travel.  I suppose my natural inclination are places like Greece, France, Aruba, Africa, Jamaica, etc. , but sometimes it's the unexpected and spontaneous that surprise you in life and help broaden your horizons and general knowledge about the world.
My boyfriend Max happens to be born in Malaysia.  He is half Swiss (mother) and half Malaysian/Chinese (father), and we had planned the Malaysian leg of the trip to attend his cousin, Shuwen's wedding.  We departed form Bali to Malaysia and once we landed we went to Max's friends bar, Bakita.  I had the pleasure of meeting some of his great local friends there.  We then all headed to a club called Velvet Underground | Zook Club.  I would recommend it for anyone that happens to be in KL.  We all had such a blast.  The music was great and the company fantastic.  There was a table next to us, with what we assumed were tourists, that literally had ordered at least 40 bottles of champagne.  35 of which remained at the table after they left.  Who knows why they ordered so much, probably just for show, but it was a pretty ridiculous site to say the least.
The Ritz Carlton
 before we took a tour of Kuala Lumpur and went to Petaling Street where
Chinatown
is located.   It is famous for pirated clothes and accessories along with bootleg DVDs and CDs, amongst other things.  This is a popular place both for tourists and locals.  Don't be afraid to bargain here, or walk away if they don't give you the price you want!  You can be sure they will come chasing after you to make the sell!
Petronas Twin Towers
.  The design of these towers are based on simple Islamic geometric forms of two interlocking squares, creating a shape of eight-pointed stars.  These forms have important principles within Islam – "unity within unity, harmony, stability and rationality".
There is also a bridge that links the towers called Skybridge.  This is the world's highest double-decked bridge.  It also provides a spectacular view of Kuala Lumpur, and also functions as an escape route in case of emergencies.  Our time was so limited that we did not get a chance to go on the bridge, but I most definitely will next time!
The next day we woke up early to go to Shuwen's tea ceremony. The tea ceremony is the most sacred ritual of Chinese nuptials. It serves as the bride's symbolic introduction to the groom's family.
Traditionally, the groom's family members sit in chairs, while the newlyweds kneel before them and serve the tea. It is served in a special order, starting with the groom's parents, then proceeding from the oldest family members to the youngest. In return, the newlyweds receive lucky red envelopes stuffed with money.
There are different variations of the traditional tea ceremony, but in Shuwen's case, they most definitely provided a hilarious modern spin!  The groom and his best men approached the house that Shuwen was in, while she was hidden away in a room upstairs.  The groom must find his way into the house and up to Shuwen, BUT there is one catch…the bridesmaids are in the way!  The men must do a number of ridiculous, difficult and embarrassing activities in order to move forward towards the inside of the house and up the stairs.  Along the way, they must give money to the bridesmaids in order to get closer to the bride!  Here are just some sample images below of what the poor men had to endure:
The Club Saujana Resort Kuala Lumpur
, which is where the wedding was going to be held later that evening.
A Saloon
.  I was satisfied, considering I was going in blind.  The most interesting thing to me about the whole process was that when they washed my hair, they literally did the shampooing as you sat in the chair without wetting your hair in the basin.  They then took you over to the basin to rinse out the shampoo.  It was very different!
I then rushed back to the hotel to change and get ready for a fun filled evening!  We walked downstairs to a cocktail reception in the lobby, followed by being seated at the tables.  Max was asked to host his cousin's wedding, which he obviously did a fantastic job of!  We had an amazing buffet of food that I kept going back to for seconds and thirds.  (Side note:  One thing I've noticed at weddings, although plated food at a wedding is seen in a higher regard than a buffet, every single time there has been a buffet the food always is better than weddings that have had designated plated food.  Not sure why it's turned out that way.)
The night continued with dancing and me catching the bouquet!  First time ever, so I was pretty excited!  The look on my boyfriend's face was priceless (in a cute way).  The venue closed at midnight and so we took the party to the hotel club/bar where we all partied until 4AM!  (Video included below of the club.  Poor quality and dark b/c no lights but will do.)
Aguaclara
by Liliana Villalobos.  Made in Peru.  I'm in <3 !!
Kandee Shoes
.  Eye-candy for your feet!  They had a quote on the wall, which I loved, "Give a girl the right shoes and she can conquer the world."  …and that is just what Max did!  Thank you my prince charming!
Din Tai Fung, which
 is ranked as one of the world's Top 10 Best Restaurants by The New York Times.  They are especially known for their dumplings.  I happened to really enjoy their wontons.
Gardens by the Bay
!!!!  Apparently the dome right next to it called the
Cloud Forest
is even more stunning, but it was closed that night.  I can't imagine, because in and of itself, Gardens by the Bay was exquisite.  We went in the evening, so it was a bit darker (even though they recommend you come in the day), I actually preferred the night walk, you get to see all the neon lights and the surrounding city lights.  There was something quite mystical and magical about the experience.  As you walk through each garden, you discover the stories of the contribution from different ethnic groups towards Singapore's formation. The flowers, sounds, visuals were all so beautiful (the pictures do not do it enough justice – the colorful one below is an aerial view of part of it from the top floor).
They had an event space there called the Flower Field Hall that I couldn't help but think would make for such a fantastic wedding location!  It's unique, different, stand-out and breath-taking.  I can picture guests saying, "only she would do something like this".  I've never been a conventional person of the sorts to want a cookie cutter wedding at a standard hotel or venue.  I am more the type to want to hold a special day like that at an exclusive estate, in the tropical jungle somewhere (perhaps destination), even considered Disneyland at one point (because I love it so much and it's magical)…just something different.  Gardens by the Bay is definitely that.  I'm thinking too far ahead of myself, but if there are any ladies out there getting married soon and want a Singapore destination wedding – THIS – IS – IT!  Hands down!  They even have a restaurant there called Pollen.  We didn't get a chance to eat there but promised ourselves we would go back there for dinner sometime.
We went to one called Sin Hoi Sai Eating House.  We ordered a chicken and beef dish.  Both were phenomenal, but I truly can't express how the chicken dish was TO DIE FOR!!!!!  I'm salivating as I write this – that's how good it was.  Yes, I said salivating.  Just the thought of it make me hungry.  I can't wait to go back to Singapore so I can have this dish!  Wish there was something similar in the states!
Simply Sepi