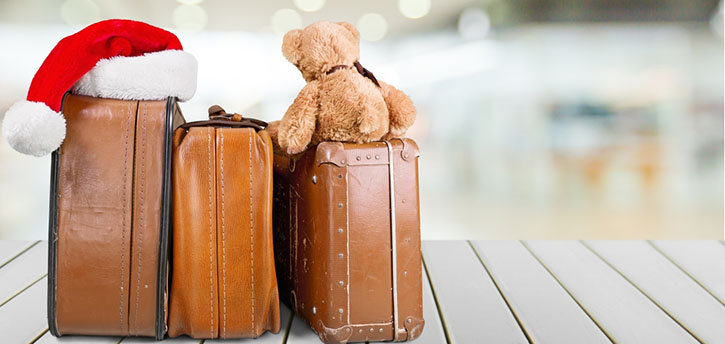 The holidays are fast approaching with Christmas and New Years around the corner. Let's not forget that shortly after will also be Valentine's Day! Everyone is dashing to try to find that perfect outfit to the festive party, gala, New Years extravaganza. It could be tough with so many places to look both online and in your local brick and mortar stores.
For those that are planning on traveling for the holidays it is especially challenging since you want to be careful with overpacking and taking things with you that you just won't use or wear. I'm an avid traveler, and I still have difficulty limiting what I take with me. Us ladies always want options, right?! I've realized that I can't pack light. It's just not me, so my motto is: Don't pack light, pack smart!
Here are my holiday travel packing tips:
Cut it in half.

That's right. You know that big lump of clothes you just laid out on your bed? Cut it in half. Don't take it all. Remember the many times you took everything and didn't wear even half of it! Remember that outfit you thought you might or possibly could wear, but never did? Exactly! Cut it in half!
Shoes First! Shoes, especially lady shoes, take up SO MUCH SPACE! I can't tell you how many times I have probably wasted such golden packing space because of my shoes! Pack them FIRST. Get them in and then pack the little things you have in the spaces in between. Don't miss out on these extra spaces you can stick things in!
Roll, don't fold! That's right. Rolling usually helps by providing more space to pack items. It also helps avoid creases when you arrive at your destination.
Dress the occasion. Think about the things you will be doing and lay out your options for each event. Then try to select the outfit you will be wearing for that particular event. Now you know you won't need an additional 2-3 backups for those nights!
One of my favorite stores that have a variety of options on outfits, whether you are going to the Opera, a nice dinner, invited to a happening cocktail hour event, traveling for business or just attending a friend's party, Tadashi Shoji has the outfit for you. They sell gorgeous gowns to the stylish pantsuit you can wear to the office and everything in between. When I know I'm traveling and need to limit my packing to outfits that I am certain I will wear and/or need a particular outfit choice for a special occasion, Tadashi Shoji doesn't fail me. Take a look at some outfits I have from there that I absolutely love, below. I also just noticed their 2018 Resort Collection is online. OMG – I already know there are a few I MUST have!
Have safe travels everyone! Hope a few of these tips help.