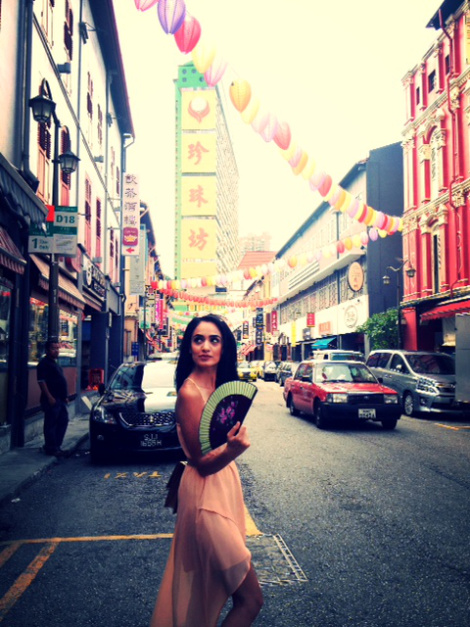 Good Morning from Singapore – the boasting Metropolis it is!  Here is my first official travel blog.  I've had a lot of my family and friends email me to post pictures and give them an update on what is going on while I am overseas traveling.  This is the first opportunity I have gotten to be able to write about it.  I'm hoping this blog will help those other World Travelers that want to hear about places to go and interesting things to do.
As many of those in my close circle know, my lovely boyfriend (Max – photo below) bought me the best birthday present ever!  A 2 week trip to Singapore, Bali and Malaysia!  A lady always loves travel…at least this one does!  "Travel brings power and love back into your life." – Favorite quote from my favorite poet Rumi!  I am blessed with being with someone who travels more than anyone I know, which in turns makes me lucky – as a lot of the time he'll invite me out to meet him in some of the most exotic of locations.  You see, he's a TV personality/host/producer/villa and club owner and just all around entrepreneur, and so his career is mainly overseas at the moment (in Switzerland and Asia), thus spending half his time on one side of the globe, and the other half at home with me where we split time between my place in Hollywood and his place in Santa Monica!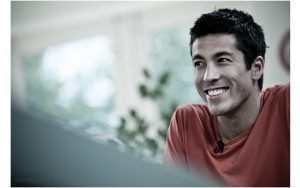 Right now, I type this as I am in Singapore, having just spent 2 full days here, before about to depart for the airport and go to Bali!  I arrived very early in the AM to Singapore – 4AM to be exact.  Lucky enough to have the seat next to me not occupied, allowing me to sleep a bit!  I'm usually a horrible sleeper on planes.  My darling picked me up and took me to his lovely condo in Singapore.  After a restful sleep, we woke up to go to what I have been looking forward to ever since he told me about it – a restaurant called Suki-Ya.  Let me first start by saying that Singapore is very HOT.  Not only hot but extremely humid.  Girls – forget about doing your hair!  Every time I did, it would curl back up!  I suppose this could be considered a blessing or a nightmare!  :))  Us girls like to doll up, but at the same time, if the circumstances don't allow for it, pulling your hair back in a ponytail is always much easier anyway!  So, back to the food…I am a massive fan of everything Shabu Shabu, and if you are as well, this place is a MUST try!  The type of food is called sukiyaki.  A traditional Japanese cuisine where they give you sliced beef and vegetables and you put it in a boiling hot pot in front of you with different mixtures of sauces.  It's to DIE for!  That being said, I'm a huge fan of Japanese food.  Probably by far my favorite cuisine in the world (shabu shabu and sushi). Below you will see the view from the top of the restaurant facing the street and some of the delicious yum yums we had to eat!  :))
From there we then headed off to do some sightseeing.  Max not only had me in town but some of his friends from Switzerland visiting. He then took us to China Town!! We walked around he streets, taking in views of the buildings, architecture, old school shop houses where they would work on the ground floor and then live in the top levels, and street shops.  It was incredibly stunning.  The colors and visual eye candy was fantastic.  I of course had to have one of the biggest coconut drinks I've ever seen!
We stopped by The Buddha Tooth Relic Temple and the first thing that we had to do was light up incense and make a wish as we placed it in this large pot filled with sand.  From there we went inside the temple.  I was wearing a dress that was sleeveless and a bit short in the front, and thus by the rules of the temple you have to cover yourself.  They had a heap of colorful scarfs off in the corner that women could drape around themselves as they walked in.  Upon entrance, we saw some of the most beautiful decor and vibrant colors.  It really lifted yours spirits as you went in.
After walking around a bit, as us girls like to do, we convinced Max (who hates shopping) to take us to some stores.  He took us to a mall that had a variety of different places to shop from.  This included shops that you would internationally see all over the place, high end designers and such, but whenever I'm traveling I like to find the local brands that you cannot find anywhere else.  He took us to two stores that were a woman's dream.  Not only do they have good quality, their prices are just as pleasant, and yet everything was fashionable and nice.  One of the stores is a shoe, tie, bag store called Pedro.  I really love this line, particularly for men.  Max owns a lot of Pedro shoes, and they look like they could cost the same as any high end expensive designer.  I arguably like the way they look better!  I, of course, had to try on several pair and finally decided on the tan colored ankle boots in the photo below.  I've been looking for a pair for a while, and so my lovely man decided to get them for me as part of my birthday gift.  We then went next door to Charles & Keith…which was yet another shoe store where I got another gift of some incredibly cute tan and pink sandals!  Whenever I travel I always come back home with new shoes!  :))
We then continued to walk around and browse through stores, coming across a great LemonGrass store that sold all these fragrances and soaps.  Visually the store was inviting, the aroma breathtaking, and it simply screamed – "walk inside and buy everything".  There should have been a warning sign posted outside "AT YOUR OWN RISK"!
After a bit of shop till you drop – we decided to go to HANDS DOWN one of the most GORGEOUS hotels I have EVERRRRR been to.  Four Seasons, Ritz Carlton – MOVE OVER for MARINA BAY SANDS, billed as the world's most expensive standalone casino property at S$8 billion, including cost of the prime land.  It was….words cannot describe.  Literally.  We went to the rooftop hotel pool, Sands SkyPark.  It was an infinity pool the entire length of the building.  The guests would be sunbathing on islands that are literally floating on the edge of the water, palm trees lined the entire poolside as it overlooked one of the most incredible views I have ever seen.  This hotel is also home to one of the most hot and popular club – Ku De Ta (I'll write more about this later).  We grabbed a drink (for me which was a most definite Pina Colada) as Max's mom joined us from Bali.  Her birthday happens to be 3 days before mine and Max had planned a huge party for the following day for us.  We grabbed a nice drink, walked the hotel and enjoyed the ambience before heading to eat dinner.
We arrived at an outdoor restaurant along the water called JUMBO Seafood.  Max had wanted to take us to an authentic Chinese restaurant where we could taste the local cuisine.  Not only was it PACKED as we got there, but then you could go up to tanks and pick out the fish you want if you preferred.  We ordered all types of seafood from shrimp, lobster, sea bass, etc.  The food was devine, as we overlooked the water and conversed with good company.  At this stage, jet lag was kicking in quite a bit and we called it a night, as we had a pretty big next day in store for us….
The next day, we woke up and went to Raffles Marina.  Raffles Marina is a first class, full service boating haven with the trappings of a prestigious country club and all pleasures of a quality resort.  For Max's mom's birthday and my own, Max had rented a boat and invited 20 close friends to join us.  We all arrived at 12PM and enjoyed a fun filled day with loud music, partying, BBQ, food, drinks and wake boarding!!!  It was a blast.  The funny thing was, we were boating right along the border of Singapore and Malaysia.  If you looked to your left it was Malaysia and if you looked over to your right you saw Singapore.  Unreal.
At 6PM we departed the boat and went home to shower, change and get ready to go to a great dinner at IndoChine.  This place offered one of the finest views of the Singapore River, this world-class fine-dining restaurant had authentic Indochinese cuisine amidst a grand backdrop of lotus flower-shaped Czechoslovakian crystal chandeliers towering Sukothai Buddha statues, rare Shan antiques and custom-made stainless steel-and-leather Ming Dynasty-style chairs.  This place was gorgeous.  Again, incredible food, lights, live music and ambience and a group full of friends who joined us of din din.  Max and I have a song that really rings true for our relationship called "Home" by Michael Buble.  He surprised me by requesting the band to sing it.  Not sure it gets any more romantic than this guy!
From dinner we then went along to KU DE TA!  This is the club I mentioned earlier that is located at the top of Marina Bay Sands, literally right next to the pool that overlooks the entire city.  We got there at midnight!  These Singaporeans know how to party!  Everything starts later and ends later (or shall I say earlier)?!?!?  Max had gotten us the best table in the club – outside, right in the middle by the pool overlooking the view.  The music was fantastic, made you want to get up and dance constantly and the drinks just kept coming.  This club is a MUST if you are ever in Singapore.  We ended the night at 4AM – really when the club closed and then went home to KNOCK OUT.  By this point I was not as exhausted as I thought I'd be.  I guess once it gets past a certain point, being tired no longer exists.  :))
I'm now on the plane headed to Bali where I will be relaxing and journaling my next experiences.  Max and I did have a very unique and a must write about experiences at the Singpaore airport before we got onto our plane.  We went to a place called FishSpa & Reflexology.  I have heard about these type of places for a while and always wanted to go!  It's where you put your foot in a warm spa of water as these little mini suckerfishes come to your feet and suck on them.  It's the weirdest, most enjoyable, awkward experience ever…and I CAN'T WAIT TO DO IT AGAIN!!!!  It's suppose to take away any dead skin and leave your feet and hands feeling smooth.  It was SO – MUCH – FUN!!!!  :))
Thanks for reading!!!!