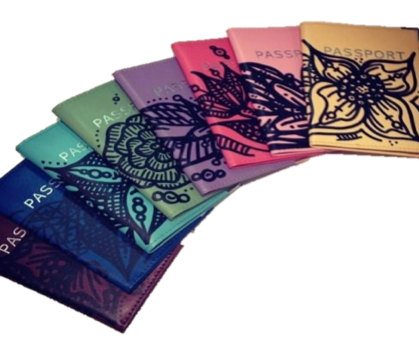 Many of you know that I am a wanderlust. I love travel and anything to do with it. I try to find any way to make my life easier while I travel, whether that be with the suitcase I take along with me, the clothes I wear on the plane or even down to my passport holder! I have always travelled without a passport cover and it's been a pain. I normally print out my boarding pass prior for leaving to the airport and pre-check in. I'm a Gold Member on Star Alliance so my check in is normally very easy, no long lines and I get to go to the Star Alliance lounge, which is fantastic. But…I always have a hard time finding my boarding pass and passport in my purse!
Recently, I received a passport cover from Elegant Artista. Holly creates these ART TO WEAR collections that are made in Miami, but shipped around the world. Not only are they art that is printed on the front of the passports, but they come in a myriad of colors and designs. This thing has been a savior and the best thing EVER for me. I can now easily find my passport with any printed material I need for my travels stuck right in it!  I recommend this to anyone that travels. It'll make your life so much easier and they are ONLY $20!! 
Check out: www.etsy.com/shop/ElegantArtista
Use the promo code FREESHIP when purchasing to get free delivery!