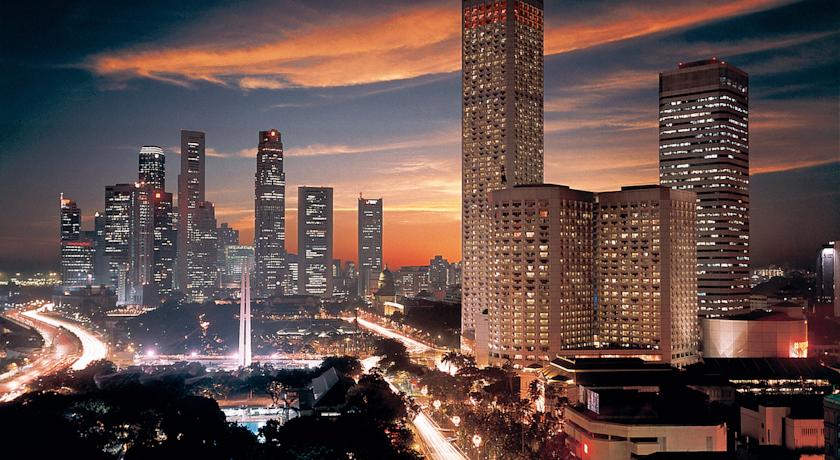 I am not a big follower of any one sport, however, that is definitely not the case with my husband, Max Loong. He absolutely LOVES race car driving. His father use to be a race car driver with Rally and so grew up with the sport. Apparently not only is the sport incredibly expensive but you really have to start when you are 5 or 6 years of age to even stand a chance! This is why the fact he has been hosting Formula 1 lately for Fox Sports Asia makes it one of his dream jobs! I was able to attend the Forumla 1 Singapore with him recently, which was such a fantastic experience.
The event spanned 3 days and it's the only night race in the world, making it even that much more exciting. Each day is filled with concerts, events, food, drinks, parties and of course the race! Max was hosting each day, so for the days that we didn't have somewhere to specifically be, we wanted to make sure that we had the best view we could have of the race. Hands down it was the Swissotel Stamford. We had two rooms on the 22nd floor and the 35th floor. We would have all our friends come to watch the race from the incredible view we had of the circuit. To say the lights and energy were electrifying is not enough. Swissotel was not only great for it's pristine view but also for it's service and location. This will definitely be the main place we would consider viewing the race whenever in Singapore, particularly since we were able to stand  out on the balcony to hear the cars, audience and music!
Max was also able to get us behind the scene passes for the paddock. He is good friends with the Team Boss of Sauber and thus we were able to get up close and personal to the Sauber garage as the cars would come in for their quick fixes, as well as do a garage walk where we had an opportunity to see all the other teams and their cars from Mercedes to Ferrari, etc. We met some of the drivers, and obviously watched my husband interview them all, but my personal favorite outside of seeing Lewis Hamilton and Nico Rosberg was seeing Niki Lauda. You know his incredibly story if you have watched the film RUSH.
One of the best and well known parties we attended was Amber Lounge. It's known as an exclusive and expensive party to attend, but the hottest event around F1 and usually has the drivers in attendance as well.
All in all we had a great time and look forward to attending Formula 1 in Singapore for many years to come!