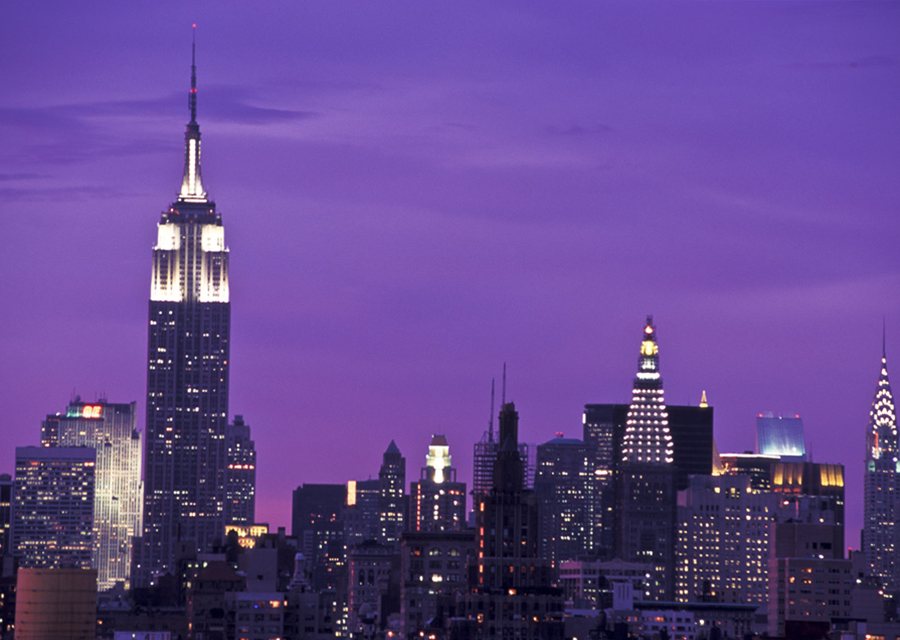 The Big Apple, Hong Kong on the Hudson, The Five Boroughs, The City with Everything, are just a few of the names that have been given to the great city of New York. Max and I have both been to New York, separately, in the past, and consider it one of our favorite cities in the world. We have discussions of being bi-coastal one day, but will settle for frequent travels.
We planned a 5 day trip to NYC recently, primarily to attend a Billy Joel concert that Max bought tickets to 6 months in advance, and to also visit some friends. On the first day that we were there, we checked into our hotel, which was the Andaz 5th Avenue, right in mid-town Manhattan.  The hotel has a great farm to table restaurant where we ate our breakfast in the mornings, as well as a downstairs bar with custom cocktails and tapas style plates. The hotel is chic, modern and walking distance to Times Square! We decided to grab a bite at the restaurant before walking around the area. We were able to explore the New York Public Library, Bryant Park and Times Square.
Eleven Madison Park
After a full day of sightseeing, we came back to the hotel and freshened up for what was one of the most memorable dining experiences I have ever had. Many of you may know about Eleven Madison Park. It ranked third in S.Pellegrino World's 50 Best Restaurants in 2016 and is number 1 in New York. The chef is Daniel Humm, whom Max (my husband), knows from his Switzerland days. They were friends back before either of them left the country, and he remembers the day they would sit along the water and talk about their dreams of one day making it in the states. Max has always told me wonderful things about this 3 Michelin starred restaurant. It's normally very difficult to get a reservation here. They open up the calendar 28 days prior to the dining date. I understand people call directly at 10AM each morning trying to book a reservation. Most often than not, you will likely be placed on hold for a couple minutes until your turn comes around and are told that the spots have filled up, but that they can put you on a wait list. Disclaimer – Some of my favorite restaurants in the world are not Michelin rated, so for me I don't buy into the hype, however this experience was truly amazing. Daniel messes with your senses. Just when you think you are going to eat something you are familiar with, the taste ends up being completely different. We ordered the chef's tasting menu, which was 12 courses or something crazy. The portions are small, but if you've ever had a tasting menu you know how filling it can get. Everything was just so unique and special. We were treated to a nice bottle of Sassicaia presented in the mosts unique of ways. The neck of the bottle was heated for a clean break and wax was then put on the ends of the broken pieces for decor. On the top part, where the cork was, the Eleven Maidson Park symbols were stamped into it and given to us in a clear box as a souvenir, which we brought home and have displayed, along with the bottle.
Sadelle's
During our stay we met up with friends and had brunch at a popular place called Sadelle's. They had some of the best bagel and lox I've had. We had to wait one hour (even though we had a reservation), but it had a good ambience and vibe…we even saw Jonah Hill show up to eat. 🙂
Beauty & Essex
One place we dined at that I would highly recommend to anyone if in New York is a trendy and happening place called Beauty & Essex. Now this place is gorgeous. They have not only done a great job with the decor, but there is a bar in the main entrance area as well as upstairs that you can take advantage of. It's a sharing plate concept, and everything we ordered was spectacular. Their cocktails were also so tasty. The ambience and crowd was classy and had that happening vibe you expect and want out of New York. Just take a look at the menu and tell me everything doesn't just sound so YUMMY!
The Bar Downstairs
Another great recommendation is Andaz 5th Avenue's underground casual bar and restaurant called The Bar Downstairs. It's a fantastic place to socialize with friends in Midtown Manhattan while having some of the greatest cocktails and tapas. We had the opportunity to speak to the chef, and he really knew his stuff. You can tell he has made an effort to stay cutting edge and innovative with his cuisine. There were a number of dishes that were surprising and unexpected. Something I'd never tried before and prepared differently. Our whole group was impressed by this young chef!
NoMo Hotel
After Andaz, we wanted to move to the SoHo area to experience a different area in New York and decided to stay at NoMo Hotel. This place is super, super chic, young and happening. If you want to go to a hotel that has a grand and beautiful entrance, outdoor dining area with bar and a very modern look in So Ho – this is it!
Le CouCou
Luckily, right around the corner was this breakfast place that just opened up about a year ago called Le CouCou. We originally wanted to make reservations here for dinner but they were fully booked, so we decided to have breakfast here. I will preface this next comment with saying that I am not a breakfast person. It's not a meal I usually crave, but this was hands down one of the best breakfast places I've been to. We both ordered the Ouef Special, which is poached eggs, sauce chyron, pomme dauphin … and it was OUT OF THIS WORLD. I am back in LA now and crave it, seriously!! We also ordered the Comme un Clafoutis, which is french pancake, blueberries, creme fraiche. The thinnest pancake ever with blueberries on top that were just right.  I will most definitely be going back here when in NY and even try their dinner.
We also had an opportunity to check out a Jean-Georges restaurant our friend took us to, called The Spice Market, in the meat-packing district. This place had detailed wall carvings and antiques from India and Malaysia flown in. It was really beautifully designed. The food was served family style and tasty.
Billy Joel concert
That night we attended the Billy Joel concert. My husband and I have been on a mission to watch the greats. We have already seen Elton John, Rod Stewart, and now Billy Joel! Apparently his concerts sell out in minutes as soon as they go on sale. We were actually quite lucky to be able to get a couple, and to watch him in the famous Madison Square Gardens was really enjoyable!
Aire Ancient Baths
An experience that we highly recommend is Aire Ancient Baths. This place is gorgeous and so relaxing. It pays homage to the ancient Greek and Roman bath traditions. The location is a textile factory in Tribeca and the building itself was built in 1883. This bath experience was listed on one of the top places to check out by locals. They have 6 different bath options, my favorite being the salt water experience where you can scrub yourself with the salt provided and float around with ease. Guests can book two hour sessions in the facility, and the bath house promises there will be no more than 26 people at any one time. You have the option of booking a massage as well during your two hour stay if you desire. Additionally, there is a steam room and warm floor resting area! This was a spa experience I was not use to, as most of the spas I've gone to don't necessarily have such a beautiful atmosphere and so many bath options!
Jersey Boys on Broadway
Lastly, before we caught our flight back home we watched JERSEY BOYS on Broadway. I had never seen a Broadway show and am usually not someone to watch things more than once. This was my THIRD time watching Jersey Boys. My husband is not generally a huge fan of musicals and he even loved it. Not only is the music outstanding, but the show itself tells of their personal stories and how they came together as a band. Max and I love true stories generally, and this one was told well. Fun side note: I use to be good friends with Joe Pesci and his character is in the musical as well! He use to tell me how he introduced them! 😉