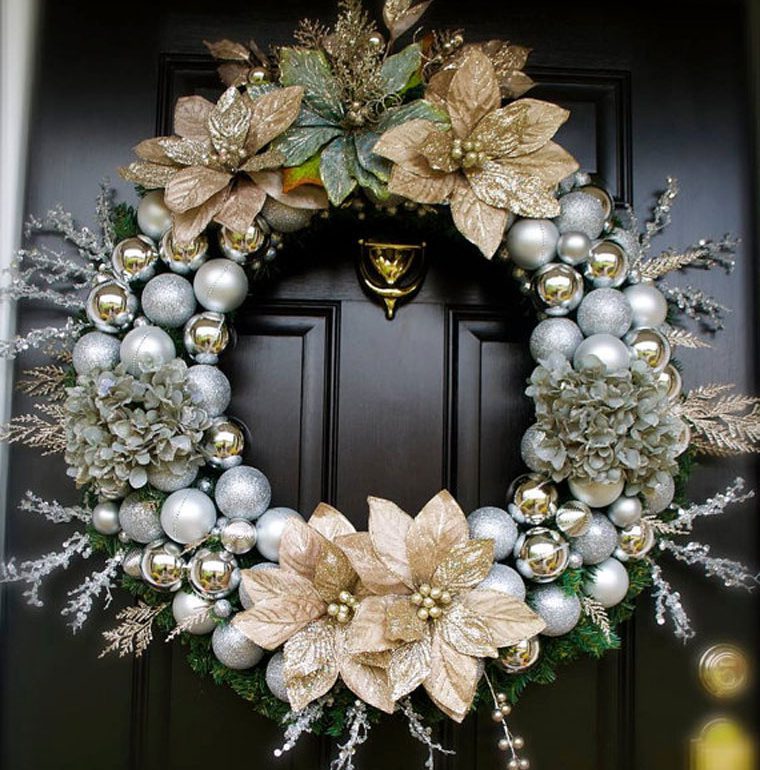 Moving into a new home, renovating and dealing with interior design can be a big feat. This is what my fiancé and I recently have gone through. We now can see the light at the other side and recently decided to hold a Housewarming/Christmas party at our home. We both love to host, love our friends and enjoy being social. Since Christmas was approaching, we thought what better opportunity than to have a hybrid party…and so we did!
With everything going on in our lives: work, planning a wedding, travels, home renovation and furnishing, etc. adding on a party to that list was a little insane. The first thing we wanted to do was ensure that we decorated the home so it had some holiday spirit. I came across this STUNNING wreath by Vincenza Ikeler of Enza Creations on Etsy.
Vincenza was born and raised in NY and remembers Christmas as one of her fondest memories as a child. The gorgeous window display and lights at Rockafellar Center stood out the most. She initially worked on Wall Street in the financial district for many years, then got married and had children. Shortly after moving to the suburbs of New Jersey. She always loved to decorate and entertain during the holidays and soon started her own business. She now creates custom styled wreathes. She makes the most gorgeous wreaths that not only work for the holidays but can be used year round. Please mention code LA10 when ordering for a 10 percent discount!!
Add her on Facebook at:
www.facebook.com/pages/Enzas-Creations/321207364737591
Instagram: Enzacreations
We set up a canapé style setting for food where we got a lot of gourmet cheeses, breads, honey and spreads from Wallys in Beverly Hills but also from Monsieur Marcel at The Farmers Market at The Grove. We wanted to add some festive element so made a Cheese Christmas Tree. We cut up the cheese in small blocks and separated each tier with rosemary or thyme. Grabbed a mushroom for the top of the tree and cut a star out of it and TA DA! A great easy little addition to your Christmas food theme. I also made some BLT sliders, which were super easy. A little serving stick with a small cut up slice of bread, lettuce, cherry tomatoes and cooked bacon. Mayonnaise served in the middle as dip, which was a favorite! We had caprese appetizers, smoked salmon, vegetables and dip, and so much more.
As a little side fun, I thought it would be great to have some Christmas props that people can use to take photos. Thanks to PartyGoodies they sent me some wonderful Christmas props. Take a look here as they have a bunch of variety for your various occasions. They also sell these wonderful butterflies as decor that are just gorgeous!!
The Photo Booth Prop shop: www.PartyGoodies.etsy.com
The Butterflies Shop: www.BugsLoft.etsy.com
Here is a picture of just some of our friends that attended the party – props in use! Sorry we didn't get the other half that showed up throughout the night! 🙁
My fiancé, being the handyman he is ended up lighting up the entire outside patio and the upstairs patio of the house beautifully. My friend lent me some spectacular candles in 3 various sizes that we displayed in our front patio as well as upstairs patio with mason jars lining all up the stairway with tea candles lit inside them. I will later do a post about our home renovation and design, but for now wanted to post about the successful event we had with our closest friends. We look forward to next year when we will be more settled in and can host an even more elaborate interactive party!