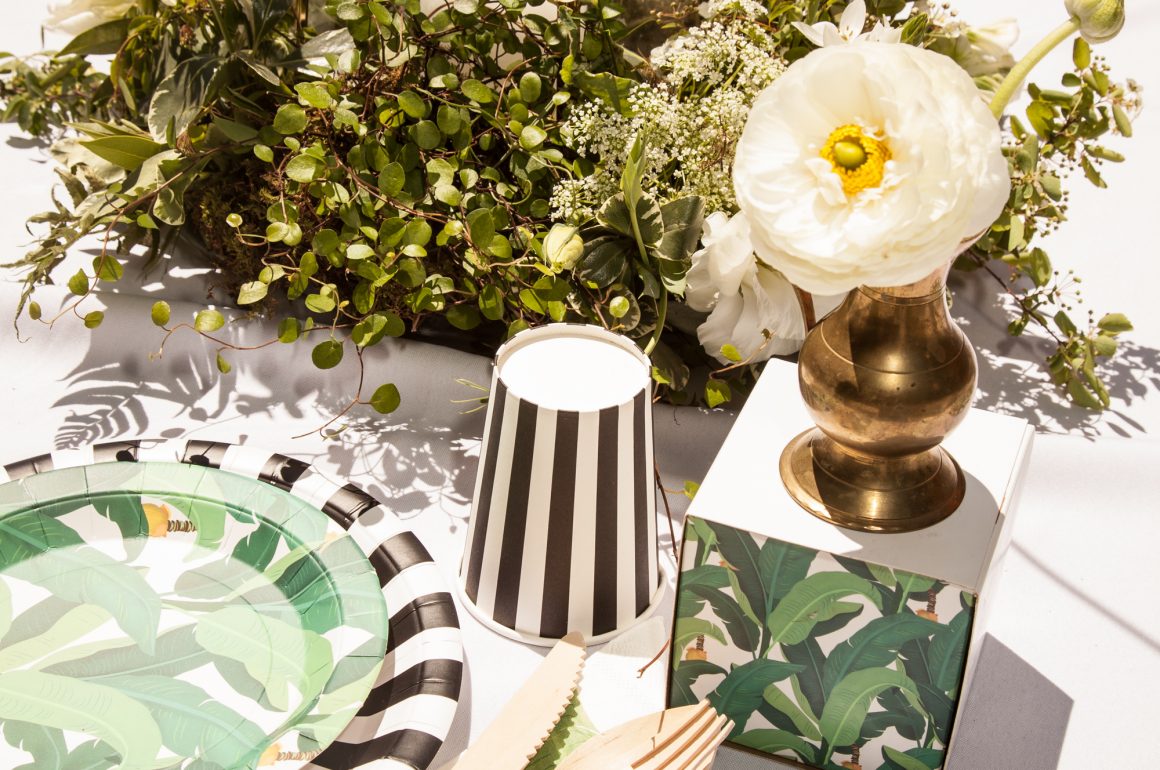 Baby showers have traditionally been just for women, but I knew that I would want a co-ed baby shower as soon as I got pregnant. I wanted to be able to celebrate our little "Heartbeat" with all of our close family and friends and definitely wanted my husband, Max Loong, to experience it and be there as well. I wasn't sure if I would be able to have him there, however, because he was working overseas and had a potential gig that would keep him out of the country for a while. Fortunately, it turned out there was a week break in between his jobs and he was able to come back for a short period of time, which allowed me to sneak in the baby shower.
Since we are having a boy, I knew that I did not want to do the traditional blue theme. Instead I decided on green and white with a little pop of gold, along with black and white stripes as an accent. We had our friend and photographer, Jonas Mohr, there taking some images as well!
Florals: The florals and centerpieces were done by Heirloom Design House. I had given her some inspiration images and she was able to re-create the centerpieces that I liked with some beautiful white florals and lush greenery. Let's not forget to mention the gorgeous copper vases and centerpieces she added!
Decor: I've always had a thing for jumbo balloons and was able to work with Heart Paper Scissors on their gorgeous balloons in a mixture of white, black and green with tassels in the same colors, as well as gold. Additionally, they provided me a "Baby" sign balloon that we strung over the pool.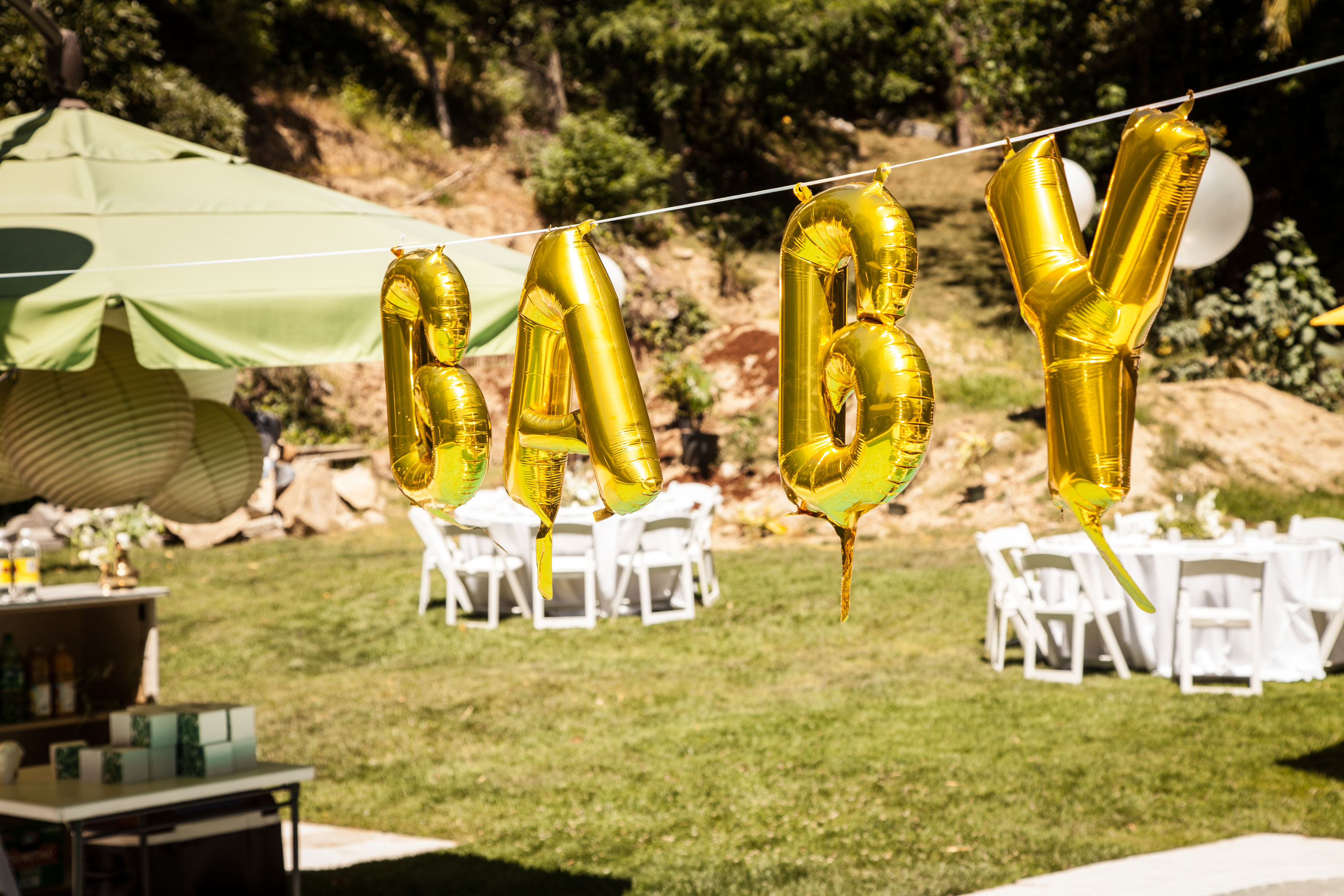 For our plates, cups, knives/spoons/forks and napkins I worked with company Paper Eskimo. We used their tropical leaf large paper plates and napkins, with a black and white striped dessert plate on top and cups off to the side. We additionally added cute wooden cutlery to the set-up. Such a fantastic way to have a party and not worry about the hassle of dishes!
Dessert: For dessert, my husband wanted to have a cake that was in the shape of a race car. His father was a race car driver and one of Max's many jobs is as Fox Sports Asia F1 reporter. He loves all things racing, as he races as a hobby himself and has a dream that our little boy will become a famous race car driver one day, and so I made sure I found a creative baker that had the ability to make a cute race car for my hubby! I was recommended to an attorney from www.lafamilylawpractice.com, Sarah Intelligator, whose side hobby is making creative cakes. Intellibaker did such a great job making a race car cake that fit our color palette.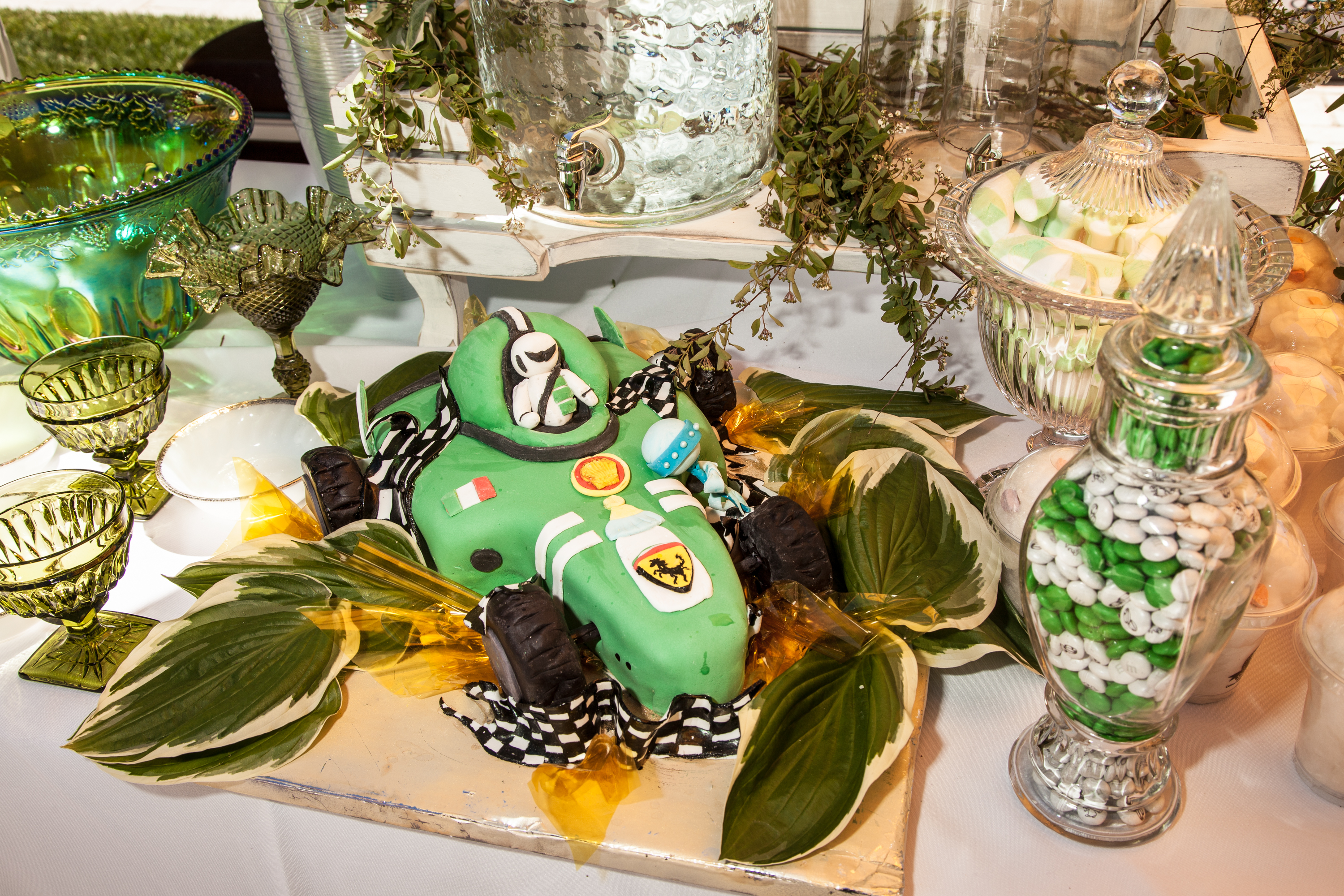 On the dessert table we used Paper Eskimo's tropical gift boxes with cupcake inserts that would be a take away for the guests. We also adorned the dessert table with glassware that was filled with green and white M & Ms as well as green and white marshmallows  from All That's Vintage56 and Tracyshort10 from Etsy (I absolutely LOVE Etsy).
CottonHi provided Organic Cotton Candy in various flavors from watermelon, strawberry, vanilla, etc. This place is amazing. They normally make ice-cream, topped with cotton candy and lucky charms. Just in case you missed it, I said ORGANIC cotton candy! I'm going to have to make a seperate trip down to their shop to just try their ice-cream. These mini cotton candy treats were also take-aways for our guests.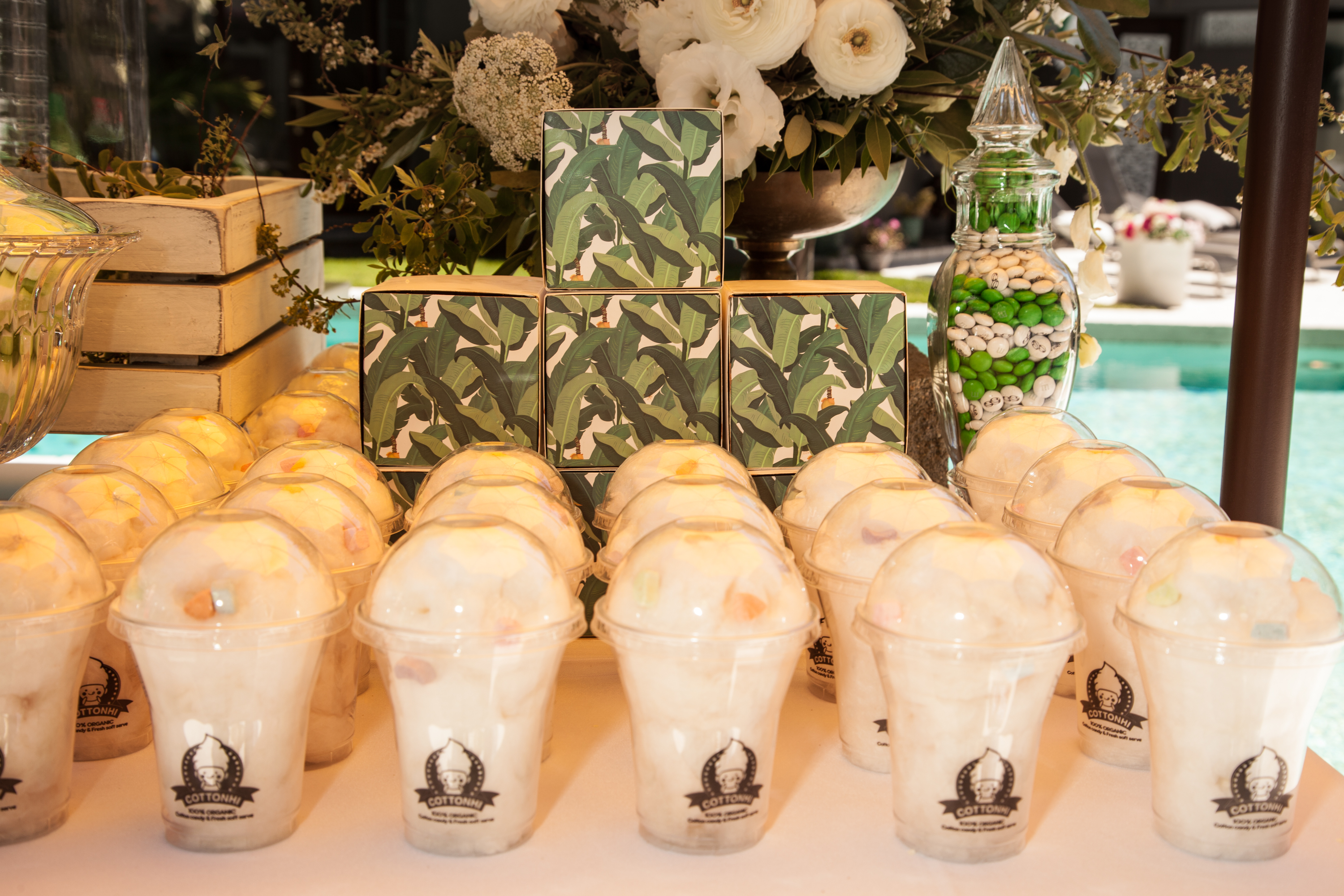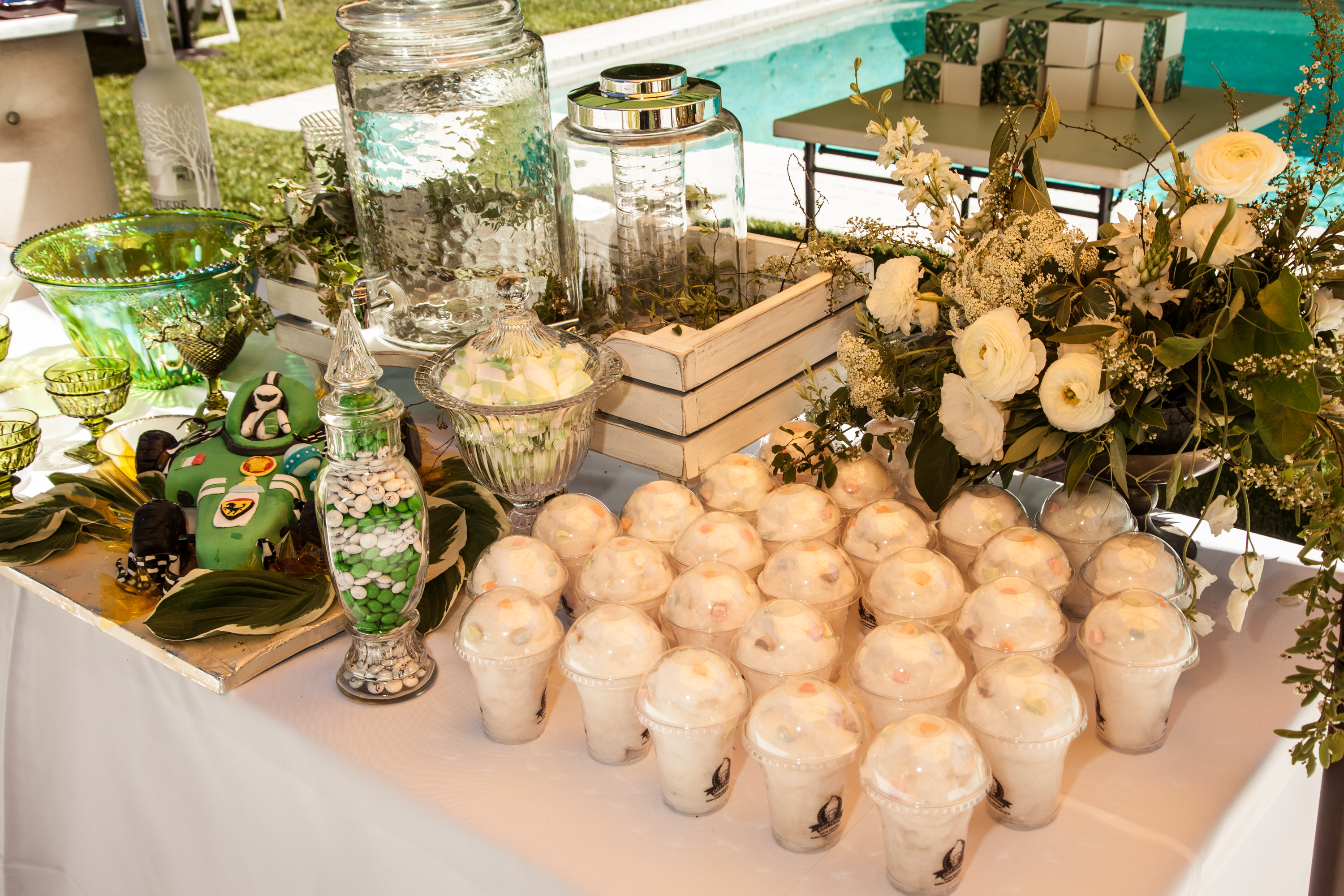 Food: For food, I wanted to make it easy for myself since I had little time to plan the baby shower and wanted to have something fun and a bit interactive. I hired a live taco stand. To hold all the fun condiments for the tacos, I worked with Fabulous Finds By Love, La Ooh La La Boutique and Gabs and Lola Jewellery for some of the beautiful green, white and clear bowls to adorn the table. The drink pitches and white stand were from Two Moose Design, and I've been able to use them for other events I've had, already.
We thoroughly enjoyed our shower, and always love spending time with our close family and friends. These are memories that will live on forever and that we will get to share with our Heartbeat one day. There's not much time left before we welcome a completely new human into our lives, and Max and I couldn't be more excited! Now off to get some rest before that becomes a thing of the past! 😉