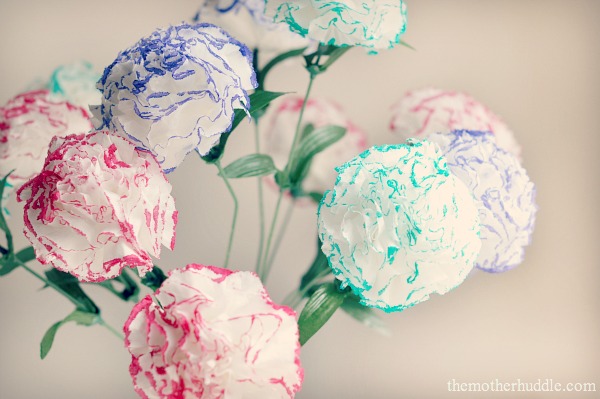 I'm a little obsessed with DIY.  I love the fact you can can create a unique environment, make something beautiful and contribute to an event or design of a party in a more economical way than paying those super premium prices for going through vendors.  Why, when you can DO IT YOURSELF!
I came across this one on another blog, tried it myself, and just now have to SHARE!  I'm hoping you guys can use this for one of your events, or simply as a nice accent piece on a present.  However you see fit.
I'm going to be making some of these for a bridal shower coming up as a small little accent for each setting, simply as a cute addition to what we will already have, and it's something they can take home with them as well.
Paper tissue Flowers!  Who would have thought they can be so ppuurrrttyyy!
All you need:
Tissues  (I use three per flower.  The more you use the fluffier the flower)
Markers (any color that goes with your theme or occasion)
Bobby pins
Scissors
Floral tape
Bare stems from the $ store 
Steps (Click on photo to enlarge for closer look):

Layer tissues on top of each other
Fold them accordion style
Put a bobby pin in the center
Cut off the ends. The less you cut off the bigger the flower, just depends on the size you want.
Take a marker and color the ends
From the top, pull each layer apart, towards the center, and do this all the way down to the bottom on each side.
Fluff
To add a little pizazz to the flower, you can get those bare stems from any fake flower and attach it to your tissue flowers, using your green floral tape to wrap around your bobby pin and the stem.

TA DA!  As The Mother Huddle suggests, you can even add some fragrance to the flowers for an extra touch.  LOVE this idea!
Note:  You can make those flowers not only in any color, but any color combination.  Have fun with them!