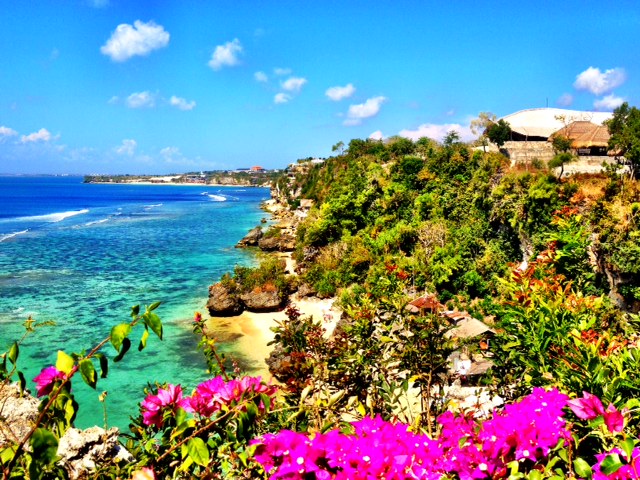 Hi Family & Friends,
I'm here now on my last day spent in Bali.  3 hours left until we leave for Malaysia.  Sitting here by the poolside, doing some work, and writing this blog.  There is so much to talk about  when it comes to this beautiful island.  I suppose I'll just start straight from the beginning.
We arrived at the airport in Bali, in the evening, to be picked up by the villa resort manager.  My boyfriend, Max and his mom own a villa resort in Bali called Hidden Hills Villas. The resort is located right at the top of the majestic Hills (Bukit) of Uluwatu, at the southwestern tip of the magical island.  The resort has a breathtaking, unobstructed, 180-degree sunset view of the Indian Ocean.  There are currently 3 active villas, and the remaining 5 are under construction at the moment.  Words and pictures cannot express how beautiful it is here.  I was lucky enough to take a tour of the construction site to see the models of the new villas being built, and I was extremely impressed to say the least.  This villa resort is a must, particularly if you want a tranquil, private, peaceful environment to relax and get away from your busy and hectic daily routine.
The next morning we woke up to have lovely breakfast made by the Hidden Hills Villas staff.  Max then wanted to show me some local attractions in Uluwatu.  We drove to Padang Padang Beach.  This is where Julia Roberts was for the filming of EAT, PRAY, LOVE.  This is one of the most popular beaches on the island.  It is known to have some of the biggest surfing competitions.  If you're a surfer, you most definitely have either been here or must come!  The best place in the world to surf!  Beautiful beaches, great waves, and awesome energy.  It has clear, clean water and nice big waves perfect for surfing. There you can also get surf boards and a trainer on an hourly basis.
We then headed to Pura Luhur Uluwatu, better known as the Uluwatu Temple, located in Pecatu Village.  "Luhur" meaning something of devine origin , "Ulu" which means land's end and "Watu" means rock.  It is a temple known to protect Bali from evil.  When we arrived, we had to pay an admission fee of US$1 each and then were given these little scarfs to wrap around our waist.  There were locals selling bananas to feed to the monkeys that are vast in this area.  Precautionary signs have been put at a few places to remind people about the monkey's aggressiveness. I personally didn't experience anything bad with them, but I did only carry my cell phone in my hand which I held really really tight.  You can pretty much walk the grounds outside the temple and walk up to it, but unless you are Hindu you are not allowed inside the temple (particularly tourists).
After Uluwatu temple we went to Blue Point Beach.   If you want to see the beach from the top, you can see it from the cafe area, which is higher.  This cafe is located on the edge of a cliff with a view beneath the beach.  It is very beautiful, but if you want to enjoy the sensation of clear water, you can take the steps to the beach. You would have to walk down past the rather steep hill, through a gap of two cliffs. There are many cafes and art shops that are lined all the way to the beach.
After a little break back at the villas, that afternoon we went to Finns Beach Club.  Here we can see the beautiful turquoise Indian Ocean below which make for the stunning landscape. In order to get to the beach, it can only be accessed by an inclination that will carry you down the cliff.  This is where you can lay in the sun and enjoy nice music and friendly service.  You could also be more active by kayaking, swimming, paddle boarding or snorkeling.  Max and I grabbed some appetizers and drinks while we overlooked the beach and enjoyed the waves.
That evening, Max and his mother took me to Alila Villa Resort.  This hotel was truly stunning.  It had a nice mixture of modern with traditional elements.  There was one room in particular that had the entire walls surrounded with these beautiful hand carved art pieces.  I saw so much detail when I was on this island, and more creativity surrounding me than anywhere I have ever been!  The locals are fantastic artists.  We had some good Indonesian food in a private cabana type table that Max requested.  He's always so organized and particular with how he makes his plans.  Specific requests for the best table in the restaurant, usually with the best view and preferably at sunset if our schedule allows for it and the view makes sense for it.  Below is a picture of the cabana style table we sat out that overlooked the ocean.
The next day, was officially my BIRTHDAY – October 22nd!!  :))  Max had a surprise in store for me (he knows how much I love surprises and constantly does so to make me happy) and had booked one night at hands down the most magnificent resort I have ever stayed at to date.  Como Shambhala.  This place was exquisite.  Once we arrived we were greeted by the General Manager (who happened to be Swiss!).  This was a benefit to us, because he recognized Max, as he is a very well known celebrity in Switzerland, particularly the German speaking part.  The General Manager gave us an upgrade, which was a great added benefit on my birthday!  We were given a tour of the grounds by one of the local staff, as he explained all the amenities, etc.  He then took us to our room….which was UNBELIEVABLE.  We literally were set high up with the tropical jungle surrounding us.  You could hear the birds and all the animals in the wild out there – majestic.  It was surreal.  The room itself was massive, designed and decorated with such charm and class.  This hotel can be pretty pricey pending on which room you book, from the lower end of the price point being around $450 to upwards of $4,000 per night.  We had a pretty sweet room to start off, as Max is pretty particular from the get go as to the room he wants to stay in and book, so with the upgrade we were just in paradise.
After settling in, we went to the village of Ubud to go shopping.  There was so many hand crafted works, art pieces, local clothing and such.  I found myself buying beautiful hand fans, incense, and offering boxes.  These offering boxes are beautiful hand woven boxes in different colors and styles that people put gifts in as a present to someone – while Max bought me a shirt I wanted and a lovely silver Buddha head that I really adored as a decoration piece for my living room!
At this point, there was so much stuff I wanted to do.  I really wanted to go Elephant riding in the safari and also see a local dance.  Since we were in the vicinity of the elephant riding, we decided to go to the Elephant Safari Park Lodge first.  Somehow we got lost quite a bit and had to ask locals the way.  It was an adventure to say the least.  I would not recommend anyone that is not familiar with Bali and the driving to ever drive there.  It is way too dangerous.  That being said, finally we got there at 7PM to catch the "elephant riding under the stars"!  I've always wanted to do this, and it was a lovely experience.  We got to go on a 25 minute ride around the safari with our own personal host (who was hilarious the entire time).  At the end, we even got to feed the elephant.
My close friends know that I always ask a million questions…and of course during the safari ride I asked the host a myriad of things and learned more about the elephants and their living conditions.  Although the conditions, for a zoo/safari type place is decent, it still made me realize on a larger scale how I felt about them not being able to be in their natural environment.  I am a sensitive person as is and have a soft spot for animals, so I really started feeling bad for them.  I always believe animals should be in their organic environment.  I have to admit, I feel a bit conflicted by this, as I truly loved the experience, and would be lying if I said I didn't have fun nor learn more about these animals than I did before, but not sure if supporting such things is something I want to do often.
By the time we were done with Elephant riding, we didn't have time to watch a local dance or go to the volcanoes, as we literally had to rush to our dinner reservations.  Max had made reservations at Kupu Kupu Barong Villas for my birthday.  He originally had set it for sunset, but we ended up missing that since we were doing the elephant riding and had to push the time.  Max was pretty adamant that we go there, and I really didn't understand why – until I got there!  He had pre-planned everything.  The table was the BEST in the house (as it always is with him).  It was one lone table on this overhanging porch overlooking the jungle and hills.  When we arrived, there were flowers all around the table, and one shaped in a heart!  It was the most beautiful thing ever!  We ordered a couple appetizers, while he also ordered the prawns and I the fish.  The food was amazing!  I then was surprised by the entire staff coming out with a cake and singing "Happy Birthday" (which I later realized was also why he was so set on making sure we made the reservations, as he had specially requested the restaurant to make a cake for me with my name on it).  I love my boyfriend and am blessed to have found him!  The most generous, thoughtful and sincere man I know.  Since we were there so late, there were two other couples still in the restaurant that we shared our cake with!  I was happy to be able to enjoy such a delicious desert with others, which they also loved!  Putting a smile on someone else's face makes me happy.  :))  …and then shortly after we headed back to Como Shambhala where it was the perfect place to end my birthday!  I have to say, hands down, to date – this has been the BEST birthday everrrr!
The next day, we got up and headed back to Uluwatu (which is about 1.5 hour drive away).  This day was a big holiday for the Indonesians.  It is called Galungan.  Galungan is a Balinese holiday.   It marks the beginning of the most important religious ceremonies.  The spirits of deceased relatives who have died and been cremated return to visit their former homes, and the current inhabitants have a responsibility to be hospitable through prayers and offerings.  The most obvious sign of the celebrations is the penjor – bamboo poles weighed down by offerings suspended at the end.  These can be seen by the side of the roads.  Normally, tourists would never get to experience a local celebration like this in someone's house.  I was lucky in that Max and his mom have staff that they are very close to, and thus we were invited to the villas security guard's (Nyoman) house.  Nyoman happens to be the nephew of the Vice Governor of Bali and well connected.  I have to say, that I feel so lucky to have experienced this.  The Balinese are some of the most spiritual people I have ever met.  They have celebrations for everything, temples and prayers all the time.  It's customary to bring an offering during Galungan.  I was able to witness the process of what happens during the offering, and to actually pray in their.  I don't have pictures of everything, as they are pretty private and these celebrations are sacred, but was given permission to take some photos and we were able to take a little video of some of it as well.  Max's mom also lent me some traditional Balinese wear for the ceremony.
Later that evening Max and his mom wanted to take me to an official last birthday dinner.  They wanted to also show me Seminyak, which is known to be the trendiest and most happening place in Bali.  This is also definitely the most touristy.  They took me to a restaurant called Sarong in Seminyak, which is one of their favorites, and probably my favorite of all the restaurants I've been to in Bali so far.  When we arrived, and as we were approaching the bar, Max stopped me and said that he had yet another surprise…they invited 8 of their closest friends that live in Bali to join.  That everyone has been wanting to meet me, and that they wanted me to get to know their closest friends in the area.  It was such a fantastic and unexpected surprise, because what I thought was going to be a very intimate 3 person dinner, turned out to be 11 people having a blast!  They were all so lovely, with great energies and positive attitudes.  The company, food and ambience was amazing!!!!  As a huge shoe fanatic…I have to also mention, as a side bar, that one of our friends (Aslinda) had the most amazing black/tan studded shoes on that night – Valentino!  They have them in all sorts of colors.  I have my eye set on the full beige or black/beige ones.  ** LOVE **
Now on our way to Kuala Lumpur, or what the locals call KL, Malaysia.  Max's cousin is getting married, so wedding festivities ahead!  :))  So far Asia has been fantastic, and I can't wait to come out more often!
Thanks for reading!!! :))