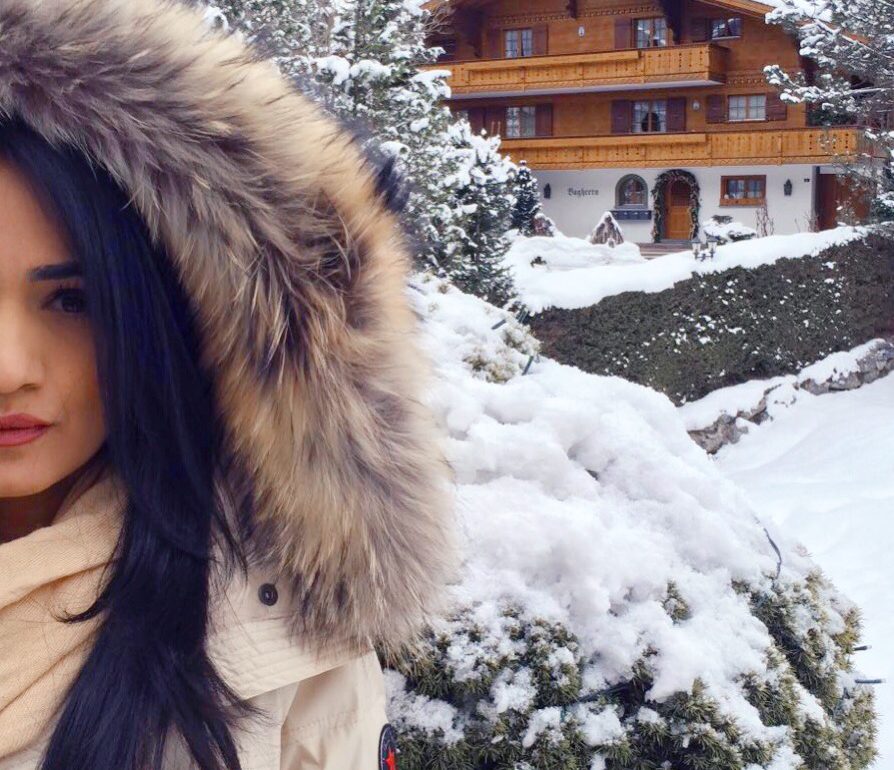 If you're a skier, snowboarder or simply love the snow, you probably have heard about Gstaad – the upscale resort town in the Swiss Alps. It's beautiful mountains, and prestigious boarding school have attracted royalty and celebrities for holiday vacations. I am not a skier, in fact, have only skied twice in my life (and the second time was here in Gstaad).
Grand Hotel Park
My fiancé, future mother in law and myself wanted to get away for a relaxing trip. Since we were already in Zurich, we decided to do a 5 night stay in Gstaad. Move over St. Moritz, you have some competition. I had heard about this wonderful ski resort, but didn't really know what to expect. We started off by trying to decide where we wanted to stay. After all our research, we decided on the Grand Hotel Park. We wanted a place that had fantastic restaurants accessible to us, a great lounge and bar as well as stunning rooms.
The first thing we experienced before anything else was the hospitality. We were so graciously greeted by the valet and upon entering the lobby, noticed a wonderful smell that apparently is there 365 days a year. It's some sort of scent they have made that gets sprayed in the lobby area that is to die for! We checked in at the reception area and were greeted by the fantastic GM, Daniel. Daniel was so kind and gracious to us during our stay, and I know we will stay in touch and have found a new friend in him as a result of our time there. Talk about a GM that is on top of it! His right hand guy Thierry was really fantastic as well, always checking in on us and stopping by to say hello when he saw us.
We then were shown around the hotel. Several restaurants with different types of culinary cuisine, a great bar with live music in the evening, and not to mention the rooms! The rooms were large, with fireplace, cozy and comfortable and a great way to spend 5 nights while in Gstaad with a magnificent view.
Chubut
On the first night we decided to check out their Argentinian restaurant, Chubut, which I would recommend to anyone if you are in that area. Not only were we welcomed to a warm atmosphere as we sat next to a relaxing log fire, but we had some truly unforgettable food and wine.
We also checked out the bar/lounge area that evening, and ended up stopping by for a cocktail or apres ski during our entire stay there, where we got to know the bartender, Olivier. Everyone was just so kind, and if they didn't have something on the menu drink wise, they were more than willing to give it a swirl! That's my kind of bar!!
Gstaad Snow Sports
The next day, my fiancé Max wanted to go skiing. Since I had only attempted once before ~ mind you on the intermediate slope without any classes (you can figure the bruises I had after that), I decided to finally take an actual class. We were recommended to the best ski school in Gstaad called Gstaad Snow Sports. Here are some pictures from my first experience (don't laugh). =*) One thing was for sure though, the teachers at the school are not only patient, but make you fee comfortable ~ Even if you are skiing with a bunch of 3 year olds! 😉
Thanks to Jet Set Official St Mortiz and IKKI Boots ~ at least I looked like a pro! =P
The Apres Ski was the best. We went to various restaurants in the mountain after skiing for a nice hot drink and food. The energy and vibe was fantastic and so much fun to socialize.
During the rest of our stay, Daniel (GM of Gstaad Hotel Park), invited us to a culinary experience where they invite a guest chef (once a week during certain seasons) to provide a 9 to 11 course meal for their guests. During our stay there, we had the benefit of having Chef Nenad Mlinarevic, Gault Millau's Chef of the Year 2016 in attendance. Not only is he one of the youngest chefs ever in the history of the renowned restaurant guide to receive the prestigious award at 34, but he's also Swiss!! There was about 10 of us there for dinner that night, which included Christa Rigozzi, whom is one of Swiss' top celebrities and hosts and was Miss Switzerland in 2006.
Some of the other restaurants we checked out during our stay were:
Post Hotel Rossli
Post Hotel Rossli (Restaurant Stubli) – Now this place. What a gem!! It's family owned and is traditional in style. I highly suggest this place if you want to take part in the local way of life. My fiancé had the truffle cheese fondue that was ahhhhh-mazing. He is quite particular about his fondue and he said "it's the best that he has ever had". They pride themselves on using local produce and having long-forgotten traditional Saanenland dishes on the menu.
Sonnenhoff
Sonnenhoff – This is definitely a place I think about when I think of Gstaad. Rustic, cozy, quaint with great views of the town and mountains. It's incredibly charming, yet elegant and not to mention the food is great as well!
Megu restaurant @ Hotel Alpina
Megu restaurant @ Hotel Alpina – Restaurant Megu at the Hotel Alpina in Gstaad is fantastic, more so because of the hotel itself. I am a big sushi fan and when we heard that Gstaad had a 16 point Gault Millau restaurant we knew we had to try it. I will say that the hotel is absolutely stunning, and it's worth to go for a cocktail (which we had after dinner). Unfortunately, the restaurant itself was not a favorite. I suppose when you've been spoiled with Los Angeles sushi, your standards are incredibly high for quality of fish. Not to mention the prices were too high for what you got. However, they do have a bunch of other restaurants there and would try another one next time we are back!
Gstaad Palace
Gstaad Palace – Now this place truly cannot be explained by words and pictures won't do it justice. Breathtaking. We went there for cocktails one night and on another night the GM of Grand Hotel Park took us to one of the most difficult to get into clubs. I have never seen so many young, affluent kids at one place. Gstaad is known for its renowned boarding school, and we are not talking about the kind that your kids cry when you mention you will send them away to. This is the kind kids beg to go to. Tuition is $150K a semester, $300K a year and most of them have $100K "allowances" per year from their parents as "spending money".
The Palace holds true to its history. Restored and beautiful. If you want opulence, grandness and over-the top. This is the place to check out!
I can't wait to visit Gstaad again. I'm ready to become a ski expert! =)