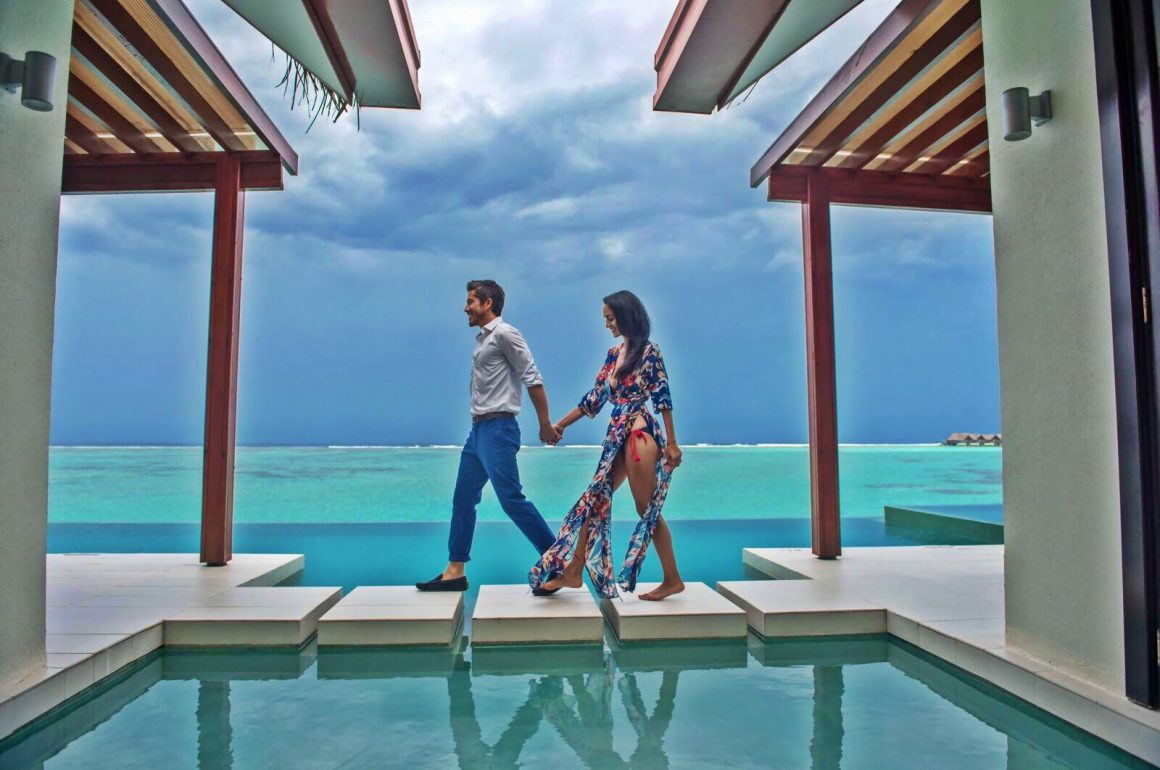 Planning your honeymoon is one of those times in your life where you can sit back and imagine the myriad of different places around the world you haven't been and would love to visit. From the time we started planning our wedding, we shortly thereafter began discussing where we would like to go on our honeymoon. Of course there was a short list of locations, but the Maldives was on both of our lists. We had heard so much about this paradise in the Indian Ocean and knew we wanted one entire week of just relaxing after a hectic schedule planning a wedding across the globe. The idea of doing nothing but sleeping, eating, swimming, snorkeling and going to amazing restaurants on an island where no one could bother us and all we are meant to do is rest sounded like heaven. We researched far and wide for a resort that provided exactly what we wanted. The one thing we had heard about the Maldives is that the resort you choose will be the most important decision as you are pretty much limited to what that hotel provides and gives you access to during your stay. After reading up on what felt like millions of resorts, Per Aquum Niyama stood out to us far above the rest. Not only did they have the famous ocean water villas that Max and I always wanted to stay in with it's breathtaking view and private pool, massive living room, bedroom and bathroom (surrounded by that unbeatable turquoise water with just a few steps down from our villa into the ocean), but one thing that was important to us was the variety of restaurants that they offered, with nine various outlets, including Asian culinary in a tree top setting called Nest and their modern fine dining restaurant, Edge, linked by a small bridge, there was Subsix, the world's very first underwater playground, restaurant and bar. On Saturdays they have a GLOW party, where we heard some of the best music as we were given glow paint to put on our faces throughout the night. It was one of the most original and fun experiences we had.
It is worth noting how incredibly friendly the staff is, which makes the experience that much better and elevates the resort to another level. We were not only greeted by the staff, as our sea plane landed, but were taken to our phenomenal room by our butler Milo. Milo was a highlight for us the entire time. He was not only fantastic, but has become a friend that we keep in touch with.
During our time there we did various activities from a romantic sunset cruise, full body massages, jet-skiing, romantic honeymoon dinner at their restaurant Tribal, bike riding, snorkeling, Glow party, pre-dinner drinks, checked out every restaurant on premise, visited a local village and went on a half day trip to a private sand dune where we were left alone with a picnic and drinks to spend time together and snorkel – all activities provided by Per Aquum Niyama. Max got to go to the gym every day as well, which is very important to him when it comes to finding a resort/hotel.
Grand Hyatt Hong Kong
After such a relaxing time in the Maldives, we decided to continue our honeymoon but switch up the pace to a more busier environment, that which is Hong Kong and Max's favorite city. Max and I are very different when it comes to how we like to spend our past time, where he prefers doing nothing but relaxing in a tranquil environment, and I usually prefer busy environments were there is a ton to do. I had not yet experienced this metropolis, but was dying to check it out, especially for it's renown shopping! We decided to stay at Grand Hyatt Hong Kong in their Ambassador Harbour View Suite. It was incredible. We had stunning views of the Victoria Harbour and the amazing skyline that is Hong Kong. A major benefit was the Grand Club Lounge where we could get breakfast, all day snacks or a drink with it's panoramic view and concierge services that provided seamless advice and bookings. We treated ourselves to an amazing massage at their Plateau Spa as well as enjoyed grabbing a drink at their Champagne Bar, where they had live jazz.
We visited several other hotels that include The Upper House. A luxury 5 star hotel that is considered one of the more popular hotels in Hong Kong. It offers panoramic views, spacious rooms (which we stayed at the Upper Suite). It's great for business people, as it also has a stylish dining space up top.
We also stayed at The Mandarin Oriental Hong Kong, which is always known for it's consistency and personalization. The Suite was spacious and also had wonderful views along with the myriad of dining and bar options. Their top level M Bar is really great for a cocktail drink.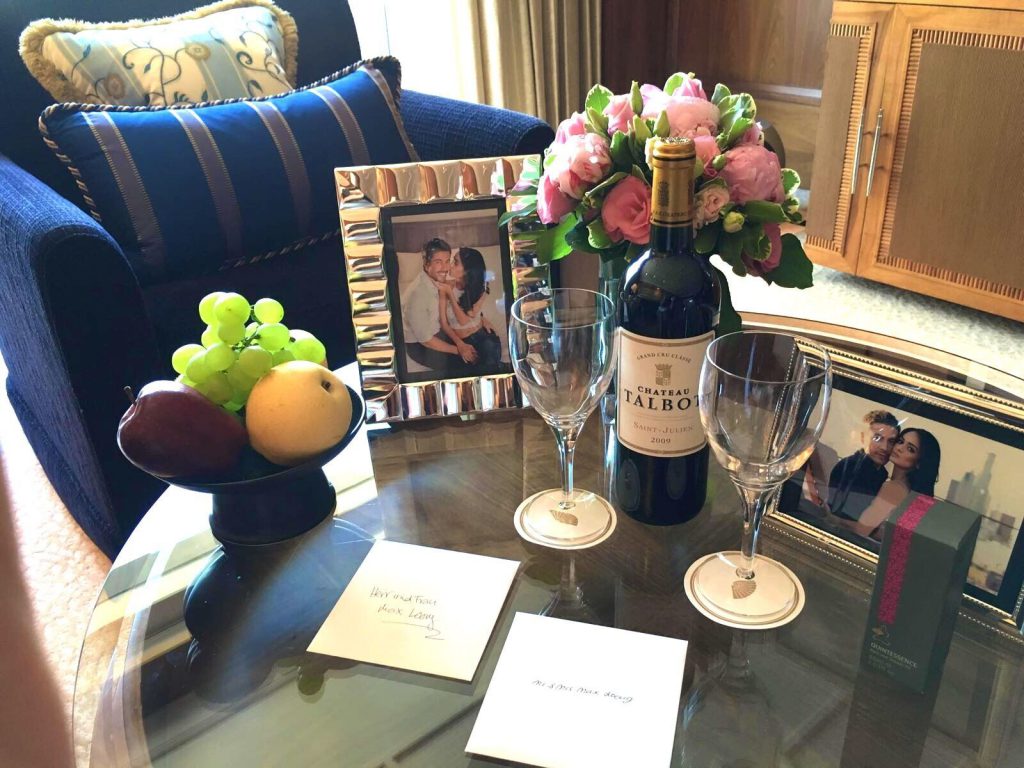 Additionally, we stayed at the iconic Peninsula Hotel. The grandness of this hotel and their common areas speak for itself. They have a great high tea that you can sign up for if you are a guest, or wait in a huge line if not. It's classy, elegant and sophisticated. The outlets within this hotel are just as stunning.
During our stay, we went on various adventures around town to some of the best restaurants such as Ho Lee Fook (highly recommend the wagyu short ribs, dumplings and cauliflower plates) and Le Garcon Saigon, which is a trendy and happening Vietnamese restaurant with a nice twist (just to name a couple). We were able to go to one of the most unique bars I've ever been to called Ophelia, where 'muses' are suspended above the bar. A whole world is created where the bar is hidden behind an exotic bird shop and is inspired by the upscale opium dens of the 19th century. The waitresses are dressed in cheongsams and the interiors are decorated with plush furniture, 600 thousand individually hand-painted tiles and intricate metal work. We went sight seeing at The Peak to take in the vast view of Hong Kong, shopping at PMQ and Causeway Bay, and even got to visit Disneyland Hong Kong! There's just too much to do in this vibrant city, which gives us a great excuse to come back!!