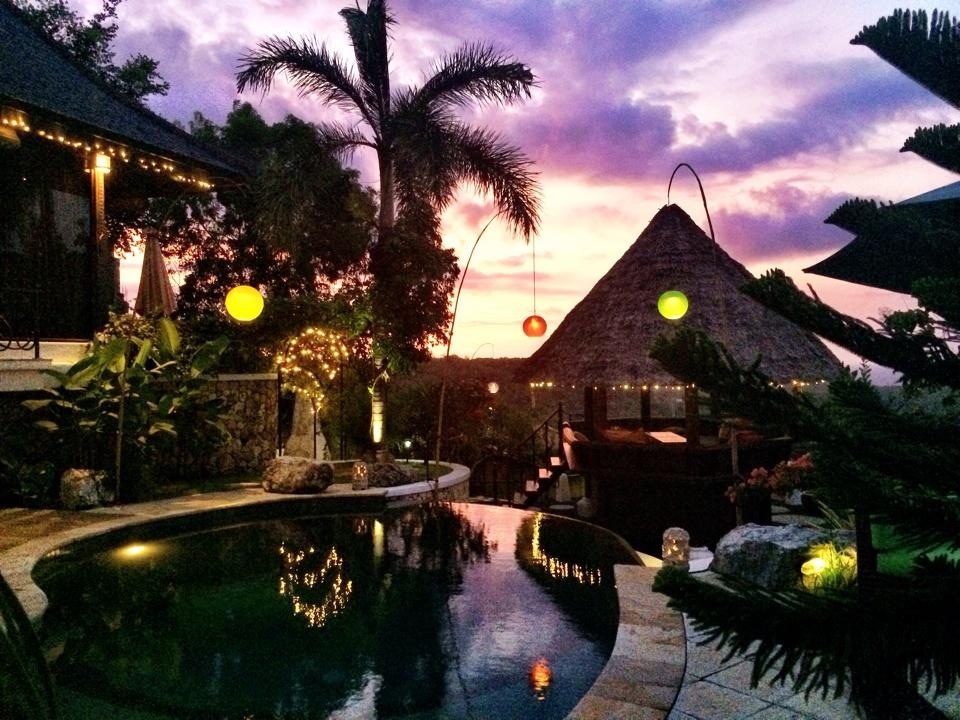 Hello Simply Sepi Readers!!  As my family and many of my friends know, my boyfriend has a villa resort in Bali, Hidden Hills Villas, and this year we threw a BIG party there for New Years.  I've been fortunate to see the beautiful, tropical island twice over the past 4 months, and on this most recent trip with my beautiful mother.  This time of year is rainy season, but very hot at the same time.  I constantly have to remind myself to forget about being able to really fix my hair as it just ends up curling up with chia pet moments – Island Hair as I like to call it!  :))  
There were major preparations happening prior to the party.  Lots of food being made, decorations, tents, lights, dj set up, sound system, etc. that needed to be planned prior to the big bash.  It was done beautifully, and executed perfectly.  Probably my favorite New Years party to date.  A few pictures below of the preparations that took place and some fun we had along the way while setting up the DJ booth and speakers!
The rest of that week was spent showing my mother around.  We went to a restaurant that I went to on my first trip in Uluwatu at the Alila Villa Resort (where you can get more information on from my previous blog on Bali).  Uluwatu is where the famous Padang Padang beach is.

Como Shambhala
so my mother could see it as well.  I'm blessed that I have a man that really wants to constantly show us a good time all the time and is such a FANTASTIC host.  He's so particular, detailed, and plans everything.  I LOVE IT!  
This time, since we were with my mom and a family friend, we got a 2 bedroom, 2 floored villa for our stay that was breathtaking.  I really urge anyone that goes to Bali to check out this resort, as it would be a shame not to see it.  Again, you can refer to my first blog post on Bali for more details, but it's literally a resort in the midst of the jungle.  This time we had a chance to grab breakfast as well as lunch there, and the food was AMAZZZZIIIING!!!  Also, we got to see a cultural dance performance that happened at the resort!  I missed watching one my last trip, so I was thankful to catch one.
We were able to stop by the W Hotel to meet up with some friends while we were in Ubud. This hotels view, ambience, lights and setting were all stunning.  
Potato Head
and
Ku De Ta
.  Although Potato Head has a funny name it is a good place for lunch, dinner or afternoon chilling with a coctktail by the pool. Ku De Ta is a beach club, restaurant and bar all-in-one and is one of my favorite places in Bali. I have to highly recommend both of these venues in Seminyak to visit. They were SO much fun.
PotatoHead: