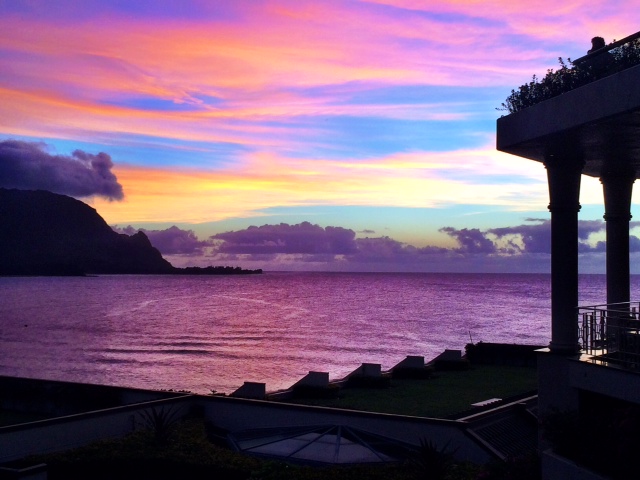 Anyone who knows me, knows that I love travel.  It's the best way to educate oneself on cultures, life and to become more worldly.
On this occasion, my boyfriend was away on a work trip in Europe when I got a call asking if I can get off work on a Monday early July in order to do a little surprise getaway for the long 4th of July weekend.  I LOVE surprises, and he knows that, so he does everything he can to surprise me whenever he can.
He got back on that Thursday, and we left the following morning really early.  I tried to get it out of him, to see where we may be headed, but no luck!  My guesses at that time were Palm Springs, Santa Barbara, San Diego, Vegas, maybe possibly Lake Tahoe…and as a bit of a stretch, somewhere in Mexico.  When we got to the airport and checked in I found out we were going to Kaua'i Hawaii.  I was super excited to spend three nights there with the most romantic man ever!

St. Regis Princeville
.  We grabbed lunch by the pool then went upstairs to change into our swimsuits and lay out by the private beach/pool area.  Pina Colada in hand and a stunning view…it was just perfect.  We also went snorkeling at that time.  I had never been snorkeling before, and it was such a great experience.  We got to see so many fish!  I would definitely go snorkeling again!!
Makana Terrace
at the
St. Regis Princeville
.  It's the best hotel on the island, even though Max and I both thought it was a bit older than we normally would like, it still is considered one of the better hotels in Kaua'i.  Max always likes to make reservations at sunset so that we get to watch the stunning view while we grab drinks and eat dinner.  It didn't fail at all this time, as we had the most amazing view to watch as we ate a great meal.
By that time, he was tired from just having flown from Europe the day before, and another 6 hours to Hawaii the next day, so we went back to our room to relax.
The next morning we got up and grabbed lunch by our pool again, as he watched the World Cup.  We had to leave by 11:30 am as Max had another surprise in store for me.  Again, I tried to guess what we were going to do…ziplining, kayaking, bike riding, hiking…what could it be?!?!  We arrived at Island Helicopters!!!  It was a helicopter ride around the island, except this one stopped at the waterfalls where they filmed the first scene of Jurassic Park.  We got some fantastic shots on the helicopter ride, but also at the landing station where the waterfall was.  As I've gotten older though, I unfortunately get motion sickness, and towards the end I couldn't wait to land! Lol.
We then headed back to our hotel to go lay out again, grab a couple drinks and then head back up to our room to rest before getting ready to go to a sushi place we kept hearing about called The Dolphin.  I'm a big foodie and enjoy trying new restaurants all the time. The food here was okay, but I am spoiled by some of the best sushi in LA!  It was definitely a great ambience and a fun local place.  We then headed back to the hotel for the evening.
After doing that, we had to head back to the hotel because he booked a photoshoot on the beach for the two of us, which was just magical.  Shots at sunset with my love.  Memories for a lifetime.
If you haven't been to the island of Kaua'i, Hawaii, I highly recommend it!!