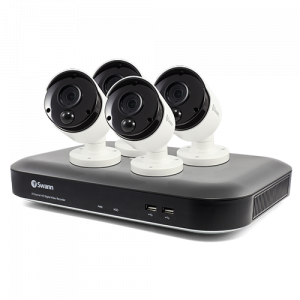 I always knew of the importance of having a security system in your house, but never like I did come last year. We had the unfortunate situation of having a neighbor move in that was not only involved in illegal activity, was mentally disturbed, but also kept company that was comprised of gang members. There were a ridiculous amount of parties next door and 2 occasions where guns were witnessed. The owner would get in these rages with his "friends/house guests" and start throwing butcher knives and furniture off his balcony onto the street. Needless to say, our neighborhood didn't feel safe. Not to mention that I had one child already and was pregnant!!!
At the time we had a basic camera system. This system was not running at all times, so when we were home and something was happening we would have to manually initiate recording, or if we weren't home and our neighbors called us. Even when we got it, it wasn't very clear. Our neighbor across the street had a more professional set-up where you could see more detail, but his camera angles didn't benefit our house completely necessarily. This is when we knew we would need to find and install a secure camera system.
Forward to the Swann. We decided to get the Swann 8 Channel Security System. It is 4K Ultra HD with 4 x 4K Bullet Cameras and 2 x 4K Spotlight Cameras. (You have the option of purchasing another 2 cameras to connect to the system if needed).
Some key features that are definitely worth mentioning:
Resolution: 4K, Ultra HD or UHD (8MP)
Night Vision Distance: 150ft/45m (total darkness), 200ft/60m (with ambient light)
Viewing Angle: 93°
Camera Usage: Indoor/Outdoor – IP66, Weatherproof
NVR HDD Size: 2TB (Up to 300 days of recording)
Cable Type:POE (NVR)
App: HomeSafe View, View 24/7
Works with Google Assistant
Warranty: 12 Months
What really is great is that it has True Detect Technology (thermal sensing), so it triggers recording & push notifications when it detects heat from moving objects, like people & cars, which we did not have before. We have it set up on our TV in the office and have it live at all times, so we can see everything that is happening literally all around our house now!